Tenways CGO 600 PRO: A Stylish E-City Racer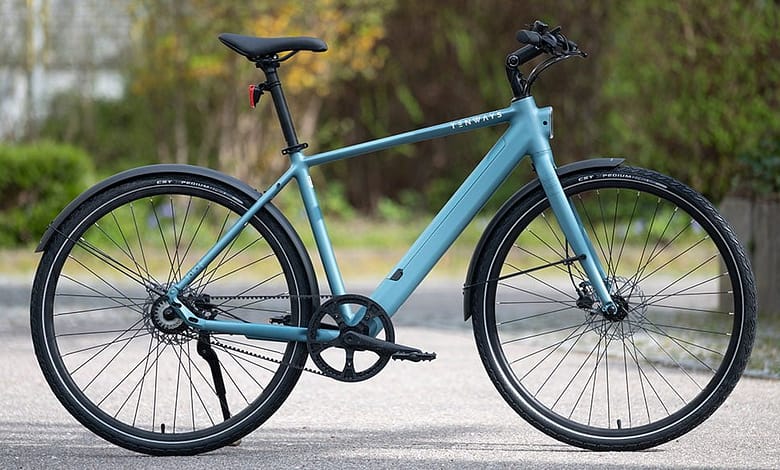 As a lightweight champion, Tenways touts its CGO 600 in the revised Pro version. The integration of the front light in the aluminum frame, which appears elegant with cleanly ground weld seams and into which all cables are routed directly at the headset, has now been optically finely solved. The long-range battery, which supplies the Mivice rear motor with power, is elegantly integrated into the down tube.
The Urban concept, designed to minimize weight, is particularly evident in the single-speed drive paired with a low-maintenance Gates belt. Three levels of support are selected via the compact control panel, which scores with its tidy menu navigation.
The narrow, straight handlebars on the (now) adjustable stem suit the sporty target group, which benefits from direct steering maneuvers in narrow urban streets. Sturdy aluminum splash guards round off the filigree and yet robust overall picture.
Convincing drive
The seating position on a tight saddle is slightly stretched but comfortable. The Mivice unit pushes energetically, and thanks to the magnetic torque sensor in the bottom bracket, it reacts pleasantly sensitively to the pedaling rhythm. The CST tires promote light-footedness on asphalt with optimal rolling behavior and also grip reliably on gravel paths.
When the tire pressure is low, they give the pilot benevolent cushioning at the wrists. It pedals without resistance at over 25 km/h, and the rear motor even pushes moderate hills with surprising power.
The Tektro brake system does a good job going downhill, although the grip is rather snappy. At consistently high speeds, the CGO 600 PRO is firm, agile, and sporty, although the frame rigidity could be a bit higher. In addition to blue, the frame can be colored green, black, or gray.
Detail shots of the e-bike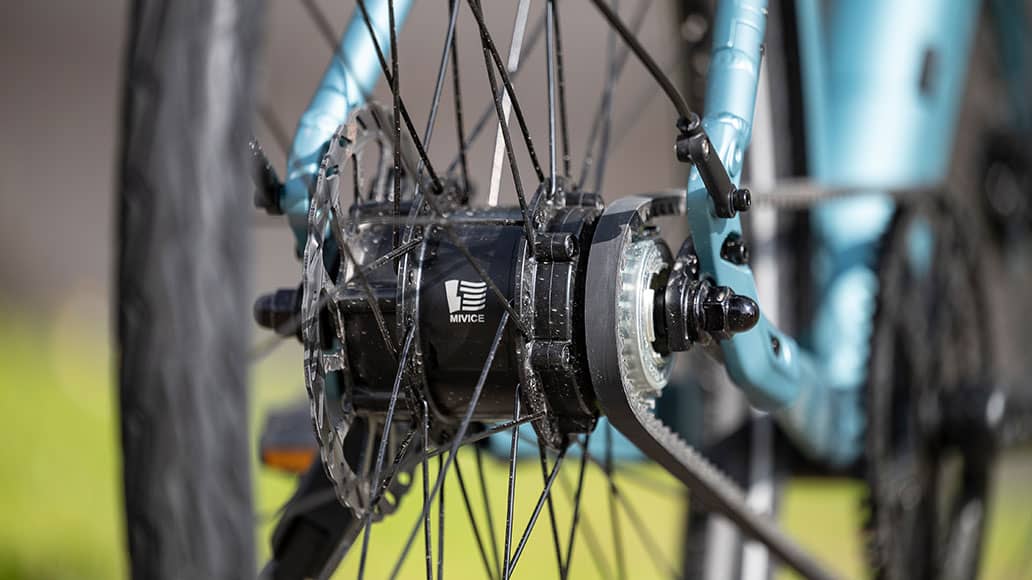 Tenways CGO 600 PRO in the test: conclusion
Design, drive concept, range: The Tenways CGO 600 PRO convinces as a nimble city runabout, with compromises in frame rigidity and a top price-performance ratio.
Positive: Clean optics, acceleration, low noise, low maintenance, robust aluminum mudguards
Negative: Rear light is still only a plug-in light; frame could be a little stiffer.
Technical details and information
| | |
| --- | --- |
| Price | 1799 euros |
| Wheel weight | 18kg |
| Permitted total weight | 120kg |
| Frame styles and sizes | Diamond: 50, 54*, 58 cm |
* Test size
Features of the Tenways CGO 600 PRO
| | |
| --- | --- |
| Frame | Aluminum |
| Fork | Aluminum, rigid |
| Brakes | Hydraulic Disc brakes, Tektro HD-M285, 160/160mm |
| Splash guard | Aluminum |
| Seat post | Aluminum, Yushen RSP-AD001 |
| Saddle | K.San YBT-K610 |
| Circuit | Single speed |
| Lighting system | v: integrated in the frame, 20 lux / h: plug-in light |
| Tires | CST XPedium Pro, 28″, 47mm |
| Miscellaneous | Gates carbon straps, reinforced stem, optional: luggage rack b. 25 kg load (59 euros extra charge) |
Drive of the Tenways CGO 600 PRO
| | |
| --- | --- |
| Drive concept | Rear hub motor, Mivice M070, 40 Nm, Display: Mivice OLED display |
| Battery capacity | 360Wh |
| Range | > 80 km |
Are you interested in the Tenways CGO 600 PRO? More information is available on the manufacturer's website.
Check out more articles on E-Bike categories.