SUV e-bikes 2023 in Test: An e-bike for any terrain
SUV e-bikes 2023
SUV e-bikes 2023 in Test – Human acceptance of the manifested limits of what is feasible, possible, or tolerable has always seemed limited. Constantly questioning these and pushing ahead with considerations while postponing them has always been omnipresent. So why should it be different in 2023 when it comes to the intended use of e-bikes?
Why should it recently be defined where the trekking area is separated from rough terrain and where the practical everyday bike can no longer meet the desired suitability for long tours? The desire for the perfect all-rounder is probably still the most expressed one, even with more and more specific applications.
Already answered years ago by the bicycle industry with the conception of the sport utility vehicle (SUV), like its four-wheeled brother, these are characterized by a comfortable seating position, potential off-road suitability, and plenty of payload. In short, a full-suspension e-mountain bike with everyday equipment Ready to go, to constantly push the previously known limits of its drivers.
SUV e-bikes: heavyweights with motor power
Our test field consists of ten of these horizon expanders, all of which are bursting with performance data. The weight loss approach is not given any significant priority; why should it? Rather, the high-torque motors from Bosch (85 Newton meters), Shimano (85 Nm), or Panasonic (95 Nm) show off their considerable thrust and use energy stores up to the four-digit watt-hour range in some cases.
The Specialized Turbo Tero comes along as a lightweight at just over 25 kilograms, while the Superdelite from Riese & Müller tips the scales at an impressive 35 kilograms.
The fact that this is by no means a disadvantage was proven by the numerous test kilometers unwound with all heavyweights: full roadholding, safe directional stability off-road, and, thanks to the powerful engines, sovereignly controllable driving dynamics.
Vehicle weights over 30 kilograms effectively prevent the rear wheel from breaking out in wet corners, as the Victoria Parcours 4, Bergamont E-Horizon FS, Flyer Goroc X 4.10, Giant Stormguard E+ 1, and the already mentioned Riese & Müller were able to impressively confirm.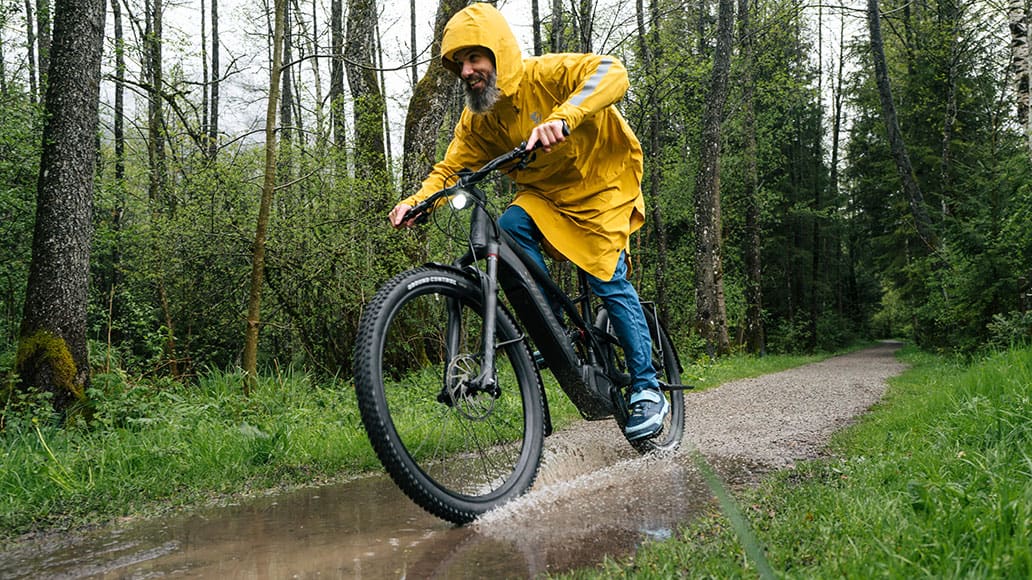 Dampening on the fork and in the rear
In addition to the safety factor, SUV e-bikes also make a generous contribution to driving comfort. Or, to put it better, this is exactly what really sets them apart in demanding terrain.
All test bikes come with high-lift forks from Suntour, RockShox, or Fox with 100 to 150 millimeters of travel. MacPherson spring struts on both front wheels of the Scorpion recumbent by HP Velotechnik ensure remarkable damping comfort. The rear suspension is also very comfortable, ranging from 100 to 140 mm.
With its Axis eRide FS 10, Scott has succeeded in fully integrating it into the frame. The resulting noticeably higher agility and direct power transmission are reflected in the very good grade. The Conway Xyron SUV 6.9 with the RockShox 35 Gold RL suspension fork (150 mm) and the Fox Float DPS damper (140 mm) achieved a noteworthy interaction of the suspension elements.
As a further comfort element, a dropper post for adjusting the saddle height was installed on eight test bikes. A component that should no longer be dispensed with in an E-SUV, according to the unanimous opinion of the test team. As far as the contact points of the saddle and grips are concerned, the manufacturers usually know how to convince with a more comfortable, not too tight, seat surface and mostly screw-on ergonomic fin grips.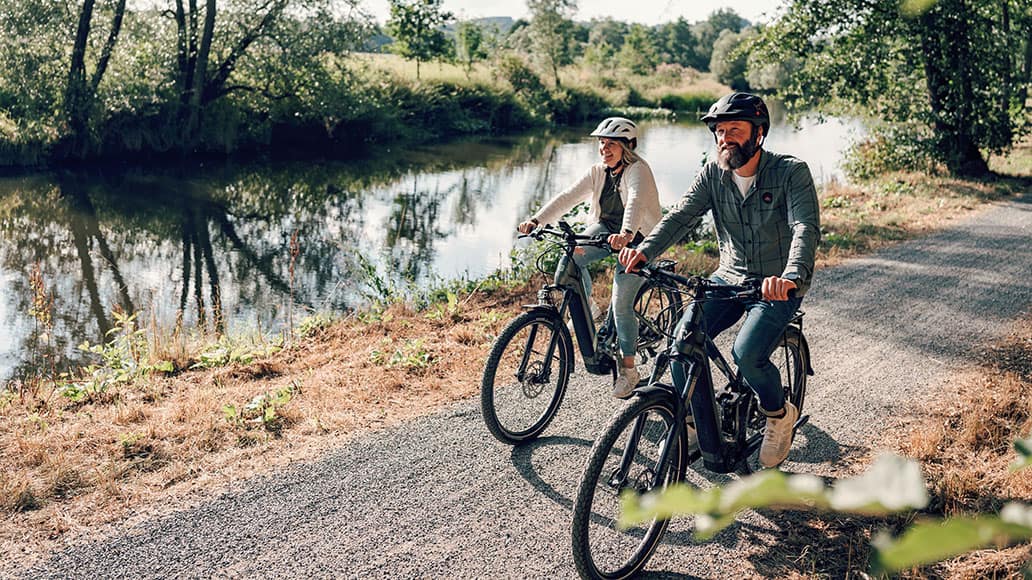 Gears and tire width
Shimano (Deore and XT) and Sram (X0 Eagle) derailleur gears with ten to twelve gears are installed so that you are also prepared for steep climbs in the terrain. The fact that hub gears and carbon belts can also meet the high demands of SUVs is proven by Giant with Enviolo's stepless automatic gearshift and Riese & Müller with the electronic Speedhub E14 from Rohloff.
HP Velotechnik equips its trike with the likewise electric XT Di2 11-speed gear system from Shimano. A final look at the selected tire types and their widths underlines once again that SUVs should ultimately be mountain bikes suitable for everyday use. At most, Victoria and Bergamont rely on a comparatively narrow contact surface with 57mm tires.
While Course 4 has coarse Maxxis Crossmark tires, the E-Horizon, with its flat contact surface in the center of the tire, feels more at home on asphalt than on rough, rocky terrain. All other bikes, with the exception of HP's Scorpion with 47 mm, roll on 60 to 66 mm wide tires, preferably made by Schwalbe.
Related: Tenways CGO 600 PRO: A Stylish E-City Racer.
SUV e-bikes in test: purchase prices from 5499 to 10,700 euros
Although the intended use is quite similar, the manufacturers still set very different priorities, which consequently also affect the purchase price. It is therefore worth paying very close attention to the details of the following ten test bikes. System weight, shifting performance, battery capacity: Like every driver, the individual manufacturers have also set their own individual focus.
The good thing for you is that the right horizon expander will be found for every e-SUV driver. Certainly!
We tested these SUV e-bikes
| | | | |
| --- | --- | --- | --- |
| brand | Model | Price | predicate |
| Victoria | Course 4 | 5499 euros | |
| Conway | Xyron SUV 6.9 | 5799 euros | |
| Moustache | Samedi Weekend FS Nyon 6120 EQ test letter | 5799 euros | Price-performance |
| Specialized | Turbo Tero X 6.0 | 6200 euros | Recommendation |
| Bergamont | E horizon | 6399 euros | |
| Scott | Axis eRide FS 10 | 6999 euros | |
| Flyers | Goroc X 4.10 | 7147 euros | |
| Giant | Stormguard E+ 1 | 7999 euros | |
| Riese & Mueller | Super delite | 10,099 euros | |
| HP Velotechnik | Scorpion fs 26 | 10,700 euros | |