Simplon Spotlight Mahle XT: Lightweight E-Bike Review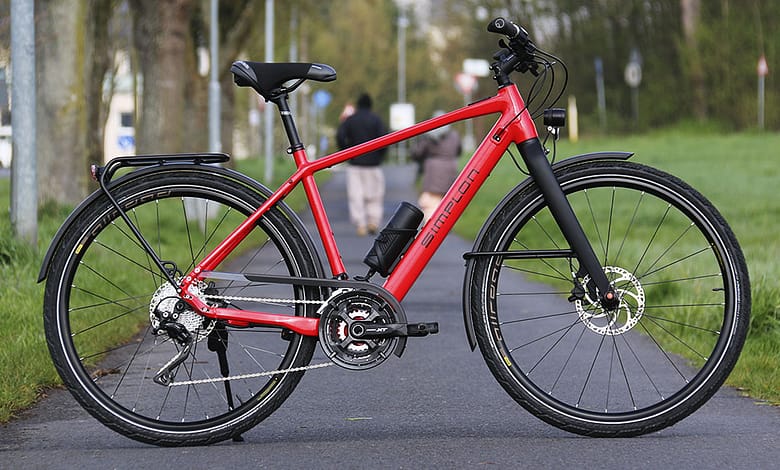 Simplon Spotlight Mahle XT: The Ultimate All-Rounder
The Simplon Spotlight Mahle XT is a compelling E-trekking bike with impressive performance, a well-rounded set of features, and high configurability. Let's dive into this E-bike review.
Simplon, based in Hard am Bodensee, is renowned for its high-quality bicycles. Originally specializing in sports bikes, the Austrian company has evolved into a full-range bicycle manufacturer.
Simplon offers a diverse range of models that can be purchased off the shelf or highly customized. The Simplon Spotlight Mahle XT, with its striking 3-chainring setup (a rarity among Pedelecs) and vibrant red color, immediately catches the eye.
This configuration allows it to handle tours even without assistance from the Mahle rear motor. Overall, the bike conceals its electric drive quite well.
For comfort, it boasts excellent all-terrain tires from Schwalbe, a comfortable touring saddle, Ergo grips, and a combination of an aluminum frame and carbon rigid fork that isn't overly stiff. The fenders are adequately wide, and the lighting system is exceptionally bright.
Unfortunately, the taillight lacks impact protection. The luggage rack is simple yet functional, capable of carrying up to 25 kilograms.
Close to a Traditional Bike
This E-bike closely resembles a traditional bicycle, with hardly any noticeable difference when riding without motor assistance.
However, it's puzzling why Simplon markets this bike to those who "prefer to forgo E-power" because the Mahle motor packs a decent punch given its weight and dimensions.
Certainly, the Spotlight won't conquer steep mountains, but it provides noticeable support in flatlands and hilly regions. In the highest of its three assistance levels, you'll feel a significant tailwind even on gentle uphill sections.
And when motor power falls short, the 30-speed gearing system comes into play. Braking performance is also spot on, with Magura brakes delivering precise and confident stopping power.
See more: BESV TRS Urban 1.1 Review: Powerful Comfort Machine.
Technical Details and Information
| | |
| --- | --- |
| Price | €5,049 |
| Bike Weight | 17 kg including Range Extender |
| Max. Total Weight | 140 kg |
| Frame Types and Sizes | Diamond: 46, 51*, 56, 61 cm; Step-through: 41, 46, 51, 56 cm |
Equipment of the Simplon Spotlight Mahle XT
| | |
| --- | --- |
| Frame | Aluminum |
| Fork | Carbon, rigid |
| Brakes | Hydraulic disc brakes, Magura MT4, 180/180 mm |
| Fenders | Hebie Alumee |
| Seatpost | Simplon |
| Saddle | Selle Italia S5 |
| Gearing | Chain drive, Shimano XT, 30 gears |
| Lighting system | B+M, front: IQ-XS / rear: Toplight |
| Tires | Schwalbe Marathon Supreme, 28″, 50 mm |
| Extras | Hebie side stand, 3-chainring setup at the front |
Drive System of the Simplon Spotlight Mahle XT
| | |
| --- | --- |
| Drive concept | Rear motor, Mahle EbikeMotion X20, 55 Nm, display: Mahle |
| Battery capacity | 236 Wh + 185 Wh range extender |
| Range | > 75 km |
Conclusion
The Simplon Spotlight Mahle XT is undeniably a remarkable fusion of the best aspects of an E-bike and a traditional bicycle. It excels in various critical areas, making it a standout choice for riders seeking a versatile and high-performance electric trekking bike.
One of its standout features is its lightweight design, which makes handling and maneuvering a breeze, especially for those who want the agility and feel of a conventional bicycle.
The geometry of the bike is well-balanced, providing a comfortable and efficient riding position that suits a wide range of cyclists.
The inclusion of a 30-speed drivetrain is a significant advantage, ensuring that riders can easily conquer varying terrains and challenging conditions.
Whether you're tackling steep inclines or cruising on flat roads, the Spotlight Mahle XT delivers a reliable and responsive riding experience.
Moreover, the bike's components and equipment showcase a meticulous attention to detail. From the high-quality aluminum frame to the carbon rigid fork and Magura hydraulic disc brakes, every element contributes to a sense of quality and reliability.
The bright lighting system adds an extra layer of safety for nighttime or low-light riding, with the only minor drawback being the non-impact-protected taillight.
While it may not be the ideal choice for extreme mountain climbing, the Mahle XT's X20 motor impresses in less demanding terrains, providing noticeable assistance on inclines and ensuring a comfortable and efficient ride, especially in flatter and hilly areas.
In summary, the Simplon Spotlight Mahle XT is a shining example of a well-balanced E-bike that maintains the spirit of traditional cycling. Its exceptional performance, comprehensive set of features, and adaptable configuration options make it a standout choice for cyclists who demand the best of both worlds.
Whether you're a seasoned trekker or a leisurely rider, this E-bike is poised to provide a highly satisfying and enjoyable journey.
The Simplon Spotlight Mahle XT masterfully straddles the line between an E-bike and a traditional bicycle. Its performance, features, and configurability are top-notch.
Pros: Lightweight, Geometry, 30-speed drivetrain
Cons: Non-impact-protected taillight
Are you interested in the Simplon Spotlight Mahle XT? For more information, please visit the manufacturer's website.