The Recumbent Bike: Riding in Complete Relaxation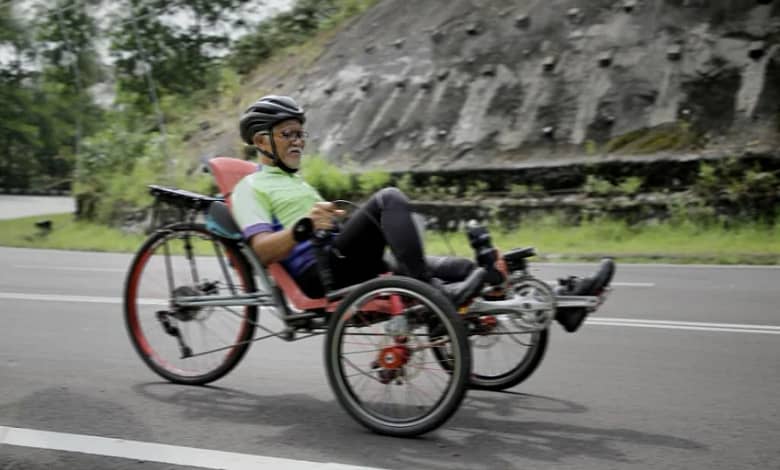 The Recumbent Bike: Riding in Complete Relaxation – We've all seen it before, but few of us have experienced riding a recumbent bike ourselves. Why is that? We'll explore what makes this unique bicycle special and the advantages of reclined riding.
What is a Recumbent Bike?
A recumbent bike is a bicycle that differs from a traditional bike in several key ways.
It features a shell or mesh seat instead of a saddle, which is reclined towards the back. This automatically places the rider in a reclined position. The bottom bracket and pedals are not positioned centrally as usual but are located in the front of the bike.
Recumbent bikes can typically be adjusted to your height, either through an adjustable seat or, more elaborately, by altering the chain length.
How Many Wheels Does a Recumbent Bike Have?
Most recumbent bikes have three wheels, either two in the front and one in the back or vice versa. There are also models with only two wheels, known as recumbent two-wheelers.
Recumbent bikes come in both unsuspended and suspended versions. There are also models with full enclosures available, keeping the rider dry in adverse weather conditions.
How Many Recumbent Bikes Are in Germany?
Compared to traditional upright bicycles, of which there are an estimated 50 million in Germany, recumbent bikes remain a niche market.
Estimates suggest that around 30,000 recumbent bikes are on the roads in Germany (Source: Wikipedia).
Due to lower demand and consequently smaller production volumes, recumbent bikes tend to be relatively expensive.
Are Recumbent Bikes Allowed in Competitions?
One reason why this over 100-year-old niche form of bicycle never gained widespread recognition may be because, to this day, competitions only allow bicycles with diamond frames.
As a result, progress and development in recumbent bikes lagged behind for a long time. However, modern recumbent bikes can match upright bikes in terms of technology.
Do Recumbent E-Bikes or Pedelecs Exist?
Recumbent bikes have also followed the trend from pure muscle power to electric assistance. E-bike enthusiasts can easily switch to a reclined position.
In addition to conventional recumbent pedelecs with pedal assistance up to 25 km/h, there is now at least one S-pedelec recumbent bike available in the European market. These can provide pedal assistance up to 45 km/h.
However, such an S-pedelec recumbent bike comes at a high price, often reaching five figures when purchased new.
What Are the Advantages of a Recumbent Bike?
Riding a recumbent bike is, above all, incredibly relaxed! When reclining, you put less strain on various parts of your body compared to sitting upright.
Your hands rest lightly on the handlebars since they don't need to support your reclined upper body. Your neck remains relaxed because you're looking straight ahead, rather than constantly looking up as on a traditional bike.
Your back can rest comfortably in the reclined position, avoiding the usual discomfort associated with sitting on a traditional bike.
Moreover, a recumbent bike provides a wonderful panoramic view of your surroundings from an exciting angle.
Reduced Air Resistance and Less Effort
Due to the low profile of the recumbent bike and the extended leg position while reclining, the air experiences significantly less resistance during the ride.
Additionally, you can exert tremendous force on the pedals without your upper body and arms counteracting, as you can support your pelvis and upper body against the backrest.
This means that almost 100% of your muscle effort goes into moving forward. This makes riding less physically demanding overall and allows you to achieve much higher speeds on straight and downhill stretches compared to traditional road bikes.
What Is the Medical Significance of a Recumbent Bike?
Your position on the recumbent bike provides pure relaxation for your spine, as confirmed by medical professionals. In the ideal scenario, it's even been shown that recumbent biking can help regenerate spinal discs.
Your buttocks and groin area are also relieved from pressure, avoiding painful pressure points or chafing that you might experience with traditional saddles. Nerves are less likely to be compressed, reducing the risk of numbness and tingling in your fingers.
For men suffering from prostate issues exacerbated by cycling, a recumbent bike can also be a viable alternative to a traditional diamond-frame bike.
What Does a Recumbent Bike Train?
Riding a recumbent bike is extremely gentle on your joints. At the same time, it effectively trains the lower body muscles.
The muscles in your legs, hips, and abdomen are particularly well-conditioned by pedaling while reclining.
Simultaneously, you enhance your endurance, and thanks to the relaxed reclined position, you can usually last longer compared to riding upright.
Can Anyone Ride a Recumbent Bike?
In principle, recumbent bikes are suitable for everyone. Contrary to popular belief, riding one is not inherently more challenging than riding a diamond-frame bicycle.
A short adjustment period may be necessary, but after that, you'll ride a recumbent bike just as confidently as a conventional bike. As mentioned earlier, recumbent bikes are particularly suitable for certain individuals.
This includes people with back issues, those who find riding a regular bike uncomfortable, or those who frequently experience pressure sores or numbness during and after rides.
Recumbent bikes may also be a viable option for those with dizziness or balance issues in certain cases.
Are There Any Disadvantages?
The most significant disadvantage of a recumbent bike is the high initial cost. As mentioned earlier, recumbent bikes remain a niche product, and the lower production volume makes them more expensive for consumers.
Basic models without suspension start at just over 1,000 euros. Those seeking greater comfort will quickly encounter significantly higher prices.
Another downside is the lack of weather protection. When it rains, the entire body of the rider on a recumbent bike is exposed to precipitation, exacerbated by the wind.
Unless you have a fully enclosed model or specific attachments like a front shield, you may get wet.
Limited Maneuverability at Low Speeds
Another drawback is the somewhat challenging handling during the ride, primarily due to the seating position and lower center of gravity.
The immobility of your upper body makes it harder to balance the bike by shifting your weight. At slow speeds, a recumbent bike can be somewhat wobbly and less agile.
It's nearly impossible to ride a recumbent bike up a curb since you can't lift the front wheel(s) in the typical way.
Is Riding a Recumbent Bike Safe?
Regarding the visibility and safety of recumbent bikes on the road, opinions vary. Some argue that recumbent bikes, especially when positioned behind parked vehicles, may be overlooked more easily, potentially leading to more accidents.
Others contend that in most bicycle accidents, the involved car or truck driver simply did not pay enough attention to cyclists. According to this perspective, it doesn't matter whether you're on a recumbent or an upright bike.
People who ride recumbent bikes frequently report that their unusual bicycles attract a lot of attention, making them more visible on the road.
Riding in Snow and Ice
When the road surface is challenging, such as icy or snowy conditions, the risk of falling off a two-wheeled recumbent bike is higher compared to traditional bikes.
This is because you can't easily regain your balance by adjusting your upper body when slipping. On the other hand, three-wheeled recumbent bikes are generally more stable on all types of terrain.
Furthermore, the lower fall height means that falls from a recumbent bike rarely result in serious injuries.
Blinding Evening Sun and Headlights
Riding a recumbent bike can result in increased glare from oncoming headlights or the low evening sun due to the reclined seating position.
At the same time, car headlights may be more blinding compared to an upright riding position.
However, drivers typically notice recumbent bike riders more easily in the dark since the rider is directly at the level of their headlights, rather than just their legs as with traditional bikes.
Can I Carry Luggage on a Recumbent Bike?
Many recumbent bikes have rear luggage racks or the option to install one. If you plan to travel with a recumbent bike and need to carry more luggage, consider using a touring recumbent bike.
With these models, you can typically attach several large panniers to specialized mounts behind and under the seat. Because the luggage's center of gravity aligns with the wheel axles, you experience little to no impact on riding performance, unlike with traditional touring bikes.
Handlebar bags, low riders, or backpacks are generally not suitable for recumbent bikes.
What's the Difference Between a Recumbent Bike and an Exercise Bike?
Recumbent bikes are gaining popularity in the fitness industry as an alternative to stationary exercise bikes and ergometers. They offer the same benefits in terms of body posture.
The comfortable reclined position reduces strain on the upper body muscles, especially the back, while effectively training the lower body muscles.
People with spinal, neck, or arm and wrist issues particularly benefit from this workout position.
Moreover, individuals with dizziness or balance problems can exercise more comfortably on a recumbent bike, as it eliminates the fear of falling.
This makes recumbent biking, whether outdoors, in the gym, or during rehabilitation, an extraordinarily gentle exercise option for everyone.