Provelo GPS Bike Computer from Aldi Süd Review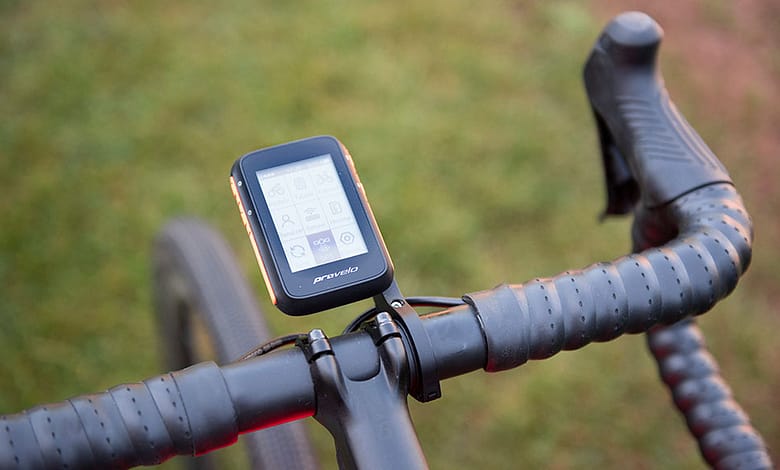 Provelo GPS Bike Computer
Provelo GPS Bike Computer from Aldi Süd Review – Provelo's bike computer boasts an impressive array of 78 functions and offers both ANT+ and Bluetooth as digital connectivity options, allowing for the integration of external sensors into data collection.
With a robust 1300 mAh battery, all of this comes at a competitive price point of €69.99. The package includes a micro-USB cable, various-sized rubber bands, a handlebar/stem mount, and an out-front mount suitable for sporty bikes, complete with two rubber inserts for different handlebar diameters.
Our Impression
Measuring approximately 5.7 x 1.8 x 8.6 cm (according to the manufacturer's specifications), the Provelo computer is similar in size to many current branded products.
Its 2.5-inch screen is generally well-sized and provides good visibility. It feels comfortable to hold and appears sturdy overall, although it is noticeably lightweight, likely due to a thinner plastic casing.
The accompanying accessories, while functional, do not exude premium quality. The rubber bands, in particular, feel slightly softer, and one was already torn upon arrival. Replacement may prove difficult, if not impossible.
However, both mounts are practical and perform their intended functions effectively. A simple 90-degree twist secures the computer firmly in place.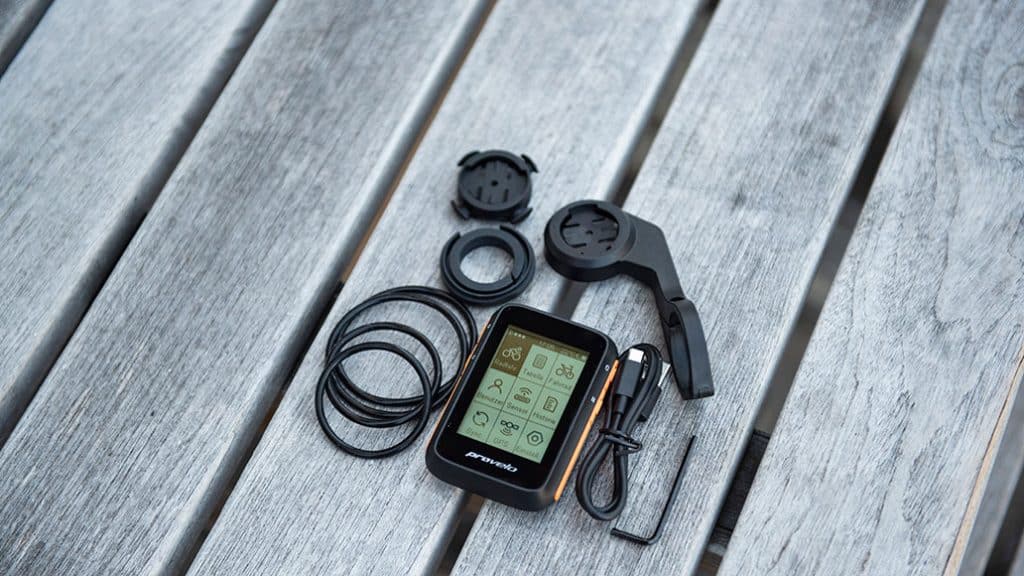 User-Friendly Interface and Reliable GPS Connectivity
One noteworthy feature is that the computer arrives partially charged, allowing for immediate setup. Navigation through the main menu and submenus is straightforward, using the four buttons: top left for up, bottom left for down, top right for selection, and bottom right for going back.
The 78 functions may not be immediately apparent and are sometimes buried deep within the menus. Additionally, the screen can feel crowded, making numbers and lines appear cramped, especially during cycling. Furthermore, the display's otherwise good contrast can struggle in bright sunlight, impacting overall visibility.
Nevertheless, basic settings are easy to configure. Whether the button-based navigation is intuitive will depend on personal familiarity, but we found it quite user-friendly.
The device pleasantly surprises with its satellite acquisition speed. The GPS connection is nearly instantaneous, while some premium devices seem to take forever to establish a connection. Integrating external sensors is equally straightforward and swift.
In our test, speed and cadence sensors from a reputable manufacturer were readily available through the menu, promptly delivering their data.
When it's time to hit the road, the computer doesn't waste any time waiting for movement and begins counting ride time immediately upon pressing the button. This is a minor inconvenience at worst. Training sessions can be paused, resumed, or ended via a pop-up menu accessible with a button press.
Previous workouts can be reviewed in the history section. The data can even be synchronized with other devices and computers through digital interfaces.
Conclusion on the Provelo Bike Computer
This computer doesn't skimp on features and makes a strong impression in our initial test. Considering its price, it's truly one of Aldi's standout bargains. It may not be flawless, with a slightly crowded display and presumably somewhat lower hardware quality.
However, the price-to-performance ratio is outstanding. In certain aspects, such as connectivity, it matches or even surpasses expensive brand-name products. With a 3-year warranty, it also provides a solid level of assurance.