Pinion Mission ON.E: Drivetrain for E-Bikes in One Unit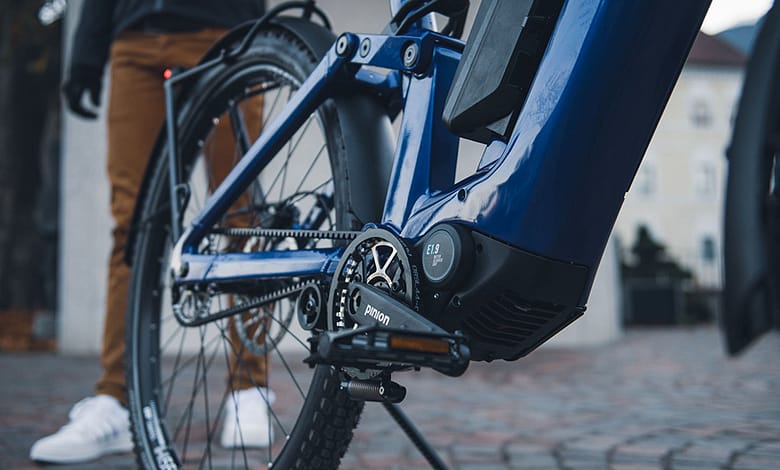 Pinion Mission ON.E
Pinion Mission ON.E: Drivetrain for E-Bikes in One Unit – Pinion has introduced a new e-drive system for e-bikes. In this system, gear shifting and the motor are combined in a compact system. All details.
World first. Engine and circuit. Finally united. That's how Pinion titles its Mission On.E. drivetrain, which was unveiled the day before the Eurobike.
Until now, this has consisted of two separate systems: a gearshift and a motor, most of which come from different manufacturers and yet somehow have to work together.
The consequences are poor shifting performance and high wear, followed by high maintenance and enormous costs. The Pinion Motor Gearbox Unit (MGU) has now stepped up to change that.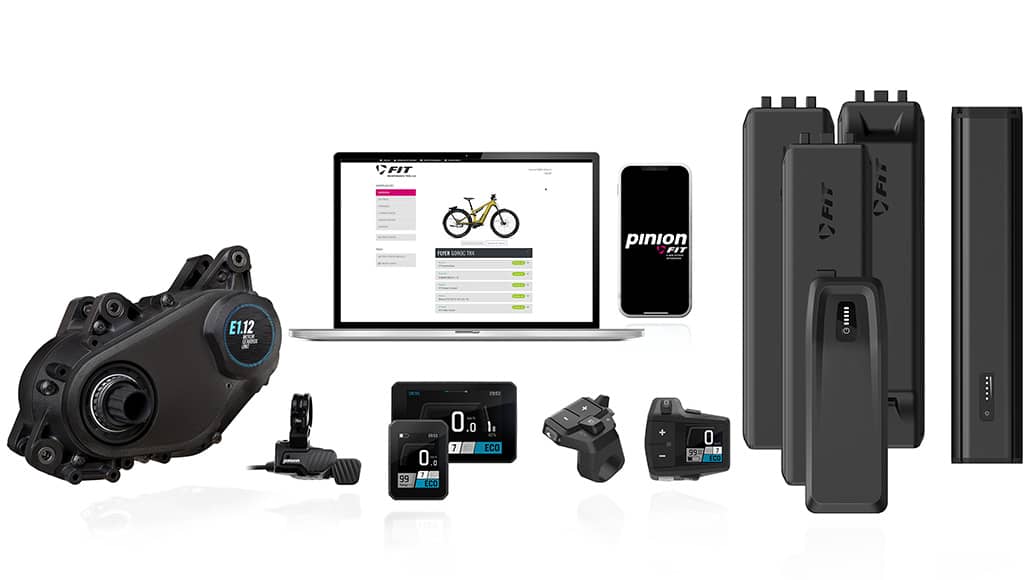 Pinion: Bringing together what belongs together
The Pinion MGU is the e-bike technology of the next generation because it combines the motor and gearshift into one unit. It combines a powerful electric motor with proven Pinion transmission technology and electric shifting of up to 12 gears in a compact package to create a completely new drive system for e-bikes.
Motor and gears are perfectly matched and work together like never before. Pinion motor-gearbox units offer durable shifting and motor performance at the highest level. They function carefree and reliably, without significant wear, with only minimal maintenance: an oil change every 10,000 km—that's it!
Pinion E-Drive System: The details
The Pinion E-Drive system with its heart, the Motor.Gearbox.Unit (MGU), will be presented to the public for the first time as a world first at Eurobike 2023.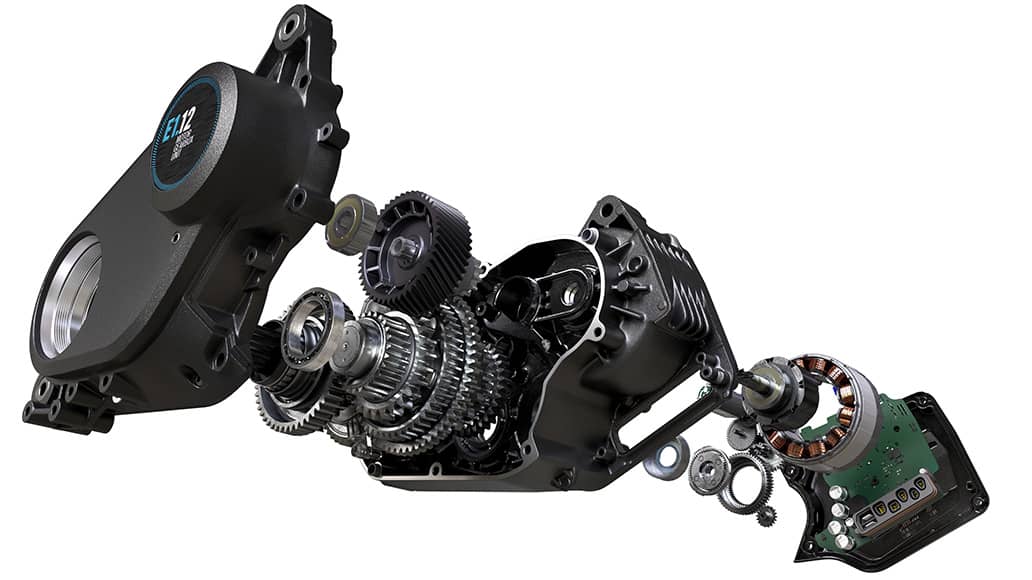 The following launch partner brands are offering e-bikes with the Pinion E-Drive system in various categories for the 2024 model year: Rotwild, Simplon, and Bulls are launching unique E-MTBs with perfectly balanced weight distribution and impressive performance.
Kettler, Flyer, Tout Terrain, Pegasus, Zemo, and i:SY will offer e-trekking bikes, e-cargo bikes, and e-compact bikes. Speed pedelecs with MGUs from the Pinion E-LINES series are also in the range at various brands.
The heart of the system: The Pinion MGU
The Pinion MGU combines a wear-free electric motor and the innovative Pinion gearbox with 9 or 12 gears in a compact overall package of comparable size and weight to current mid-mounted motors with separate gears.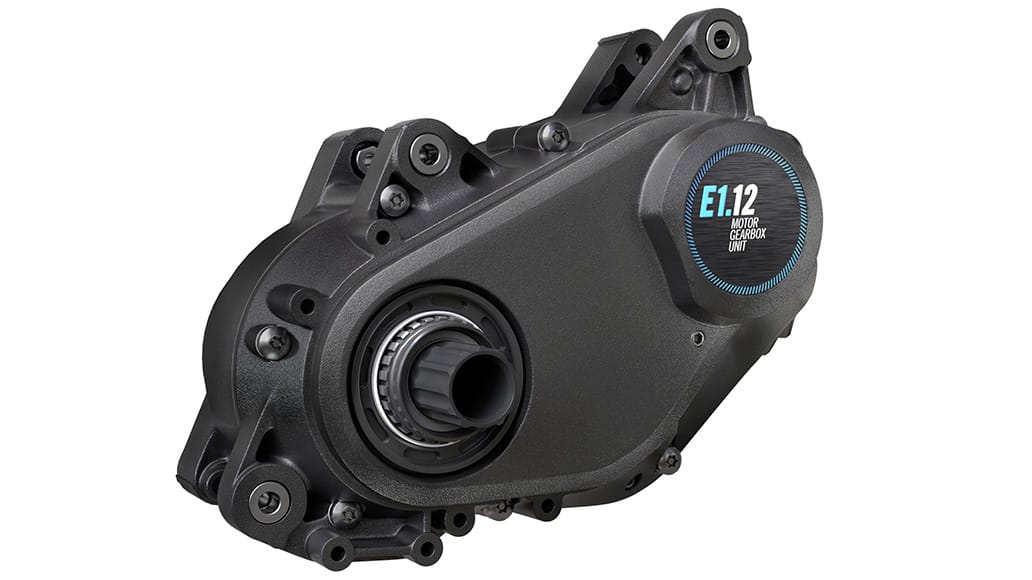 Controlled by electrical switching and driven by Pinion's own hardware and software, the Pinion MGU is the heart of a completely new drive system for e-bikes.
The development of all integrated electronic components from a single source is the key to ensuring that all parts of the system work together as a unit and deliver lightning-fast, crisp shifts in all situations and on any terrain. The Pinion MGU works reliably over the long term and without significant wear. The MGU is located centrally and deep in the bottom bracket area, resulting in optimal weight distribution on the e-bike.
The elimination of the external derailleur and cassette also means drastically reduced maintenance. An MGU and the switching technology integrated in it work almost wear-free and require nothing more than an oil change every 10,000 kilometers.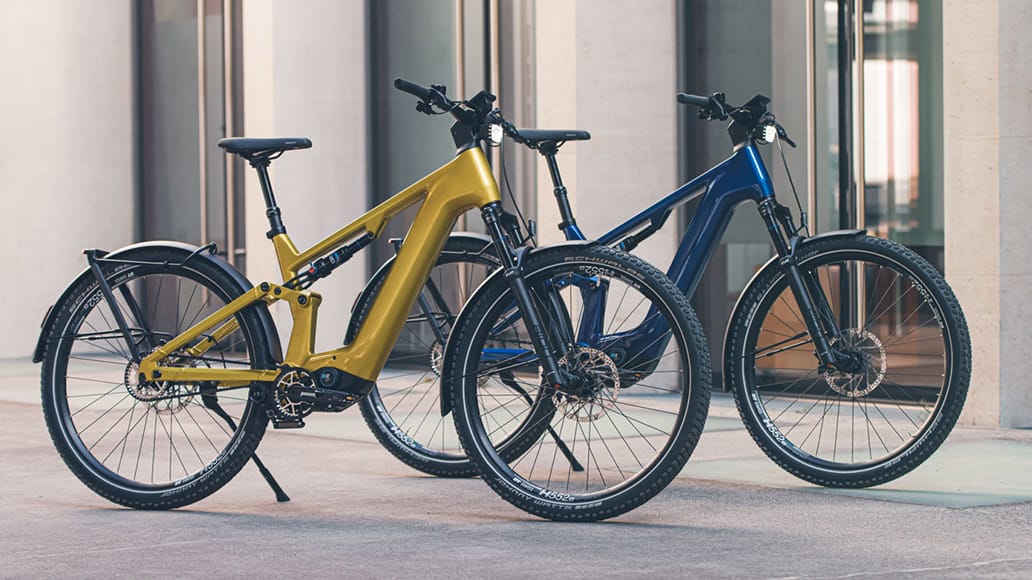 In addition, the system significantly reduces the unsprung mass on the rear wheel, which results in better chassis performance and ultimately leads to more comfort and traction.
The origin of the motor in the Pinion MGU is a state-of-the-art e-machine for industrial applications, manufactured in Germany and redesigned for use in an e-bike. The motor offers extremely high efficiency and a highly dynamic power density without sacrificing shifting performance.
All MGU versions are based on 48 volt technology and offer a torque of approx. 85 Nm compared to conventional motors without an integrated circuit. Due to the integrated circuit, however, the performance values ​​of the output shaft are not directly comparable with those of conventional mid-mounted motors.
In the first four gears, the MGU even delivers up to 160 Newton meters of torque to the rear wheel. The maximum power is 600 watts, with the S-Pedelec versions even 800 watts. The maximum support is up to 400%, with a permissible input torque of up to 250 Nm.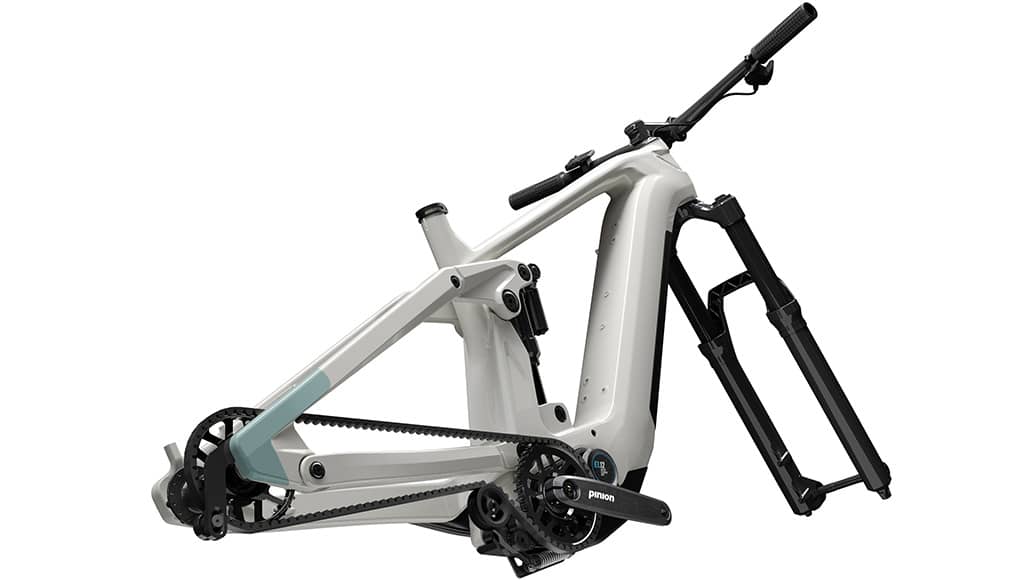 Thanks to its functional principle, a Pinion gear offers more reliable gear changes than conventional bicycle gears and is far better equipped for the high loads caused by an e-bike motor.
The technology, which has been tried and tested for more than a decade and is used by over 100 bicycle manufacturers, is reliable, durable and extremely low-maintenance. There is no rear derailleur that can step out of line or tear off.
In addition, gears are also sealed against water and dirt, which further increases the wear on conventional gears. Based on proven automotive transmission technology, Pinion transmissions rely on highly efficient spur gearing with two gear sets connected in series.
Depending on the configuration, the transmission in the MGU offers 9 or 12 gears with an unsurpassed range of up to 600 percent.
The modular approach of the Pinion E-Drive system leads to several versions of the Pinion MGU. Depending on the application, there are different models to choose from.
"Comfort" and "Performance" are offered as software configurations for efficient and harmonious commuting, reliable long-distance tours or super agile off-road riding, as well as a special version for speed pedelecs.
Each version uses its own engine and gearshift tuning as well as individual software settings that are perfectly tailored to the respective application. MGUs are assigned to the Pinion E-Line, in versions E1.12 and E1.9 and as E-Speed ​​variant E1.12S and E1.9S.
Related: SUV e-bikes 2023 in Test: An e-bike for any terrain.
Pinion Smart.Shift Function: Semi-automatic shifting
In addition to the almost instantaneous response and the natural driving feel, the MGU with integrated Pinion Smart.Shift technology enables gear changes in any situation, even under high loads, and also offers semi-automatic functions.
When the Pre.Select function is activated, the system automatically switches to the perfect gear for the current speed when coasting, so that you can pedal again when driving downhill, for example, without kicking into "empty space" or having to frantically shift up or down beforehand to have to.
For example, if you stop at traffic lights, the MGU automatically shifts to a predefined gear with the Start.Select function. Starting off in the wrong gear is a thing of the past with Start.Select.
Pinion E-Drive System: HMI and system integration
Thanks to FIT as a system integration partner, the Pinion E-Drive System offers bicycle manufacturers a high degree of modularity as well as a proven and reliable service infrastructure.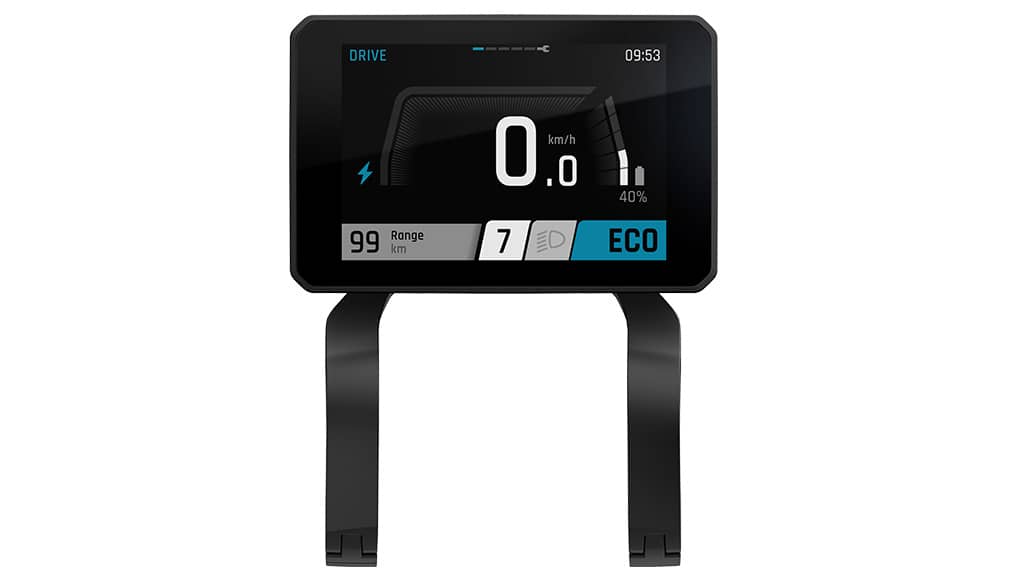 The FIT ecosystem offers various controls, displays and batteries that can be combined in a variety of ways to create an individual e-bike tailored to the respective purpose.
With a focus on connectivity and individual ease of use, the preconfigured support modes can be individually adjusted according to personal preferences with the FIT E-Bike Control App.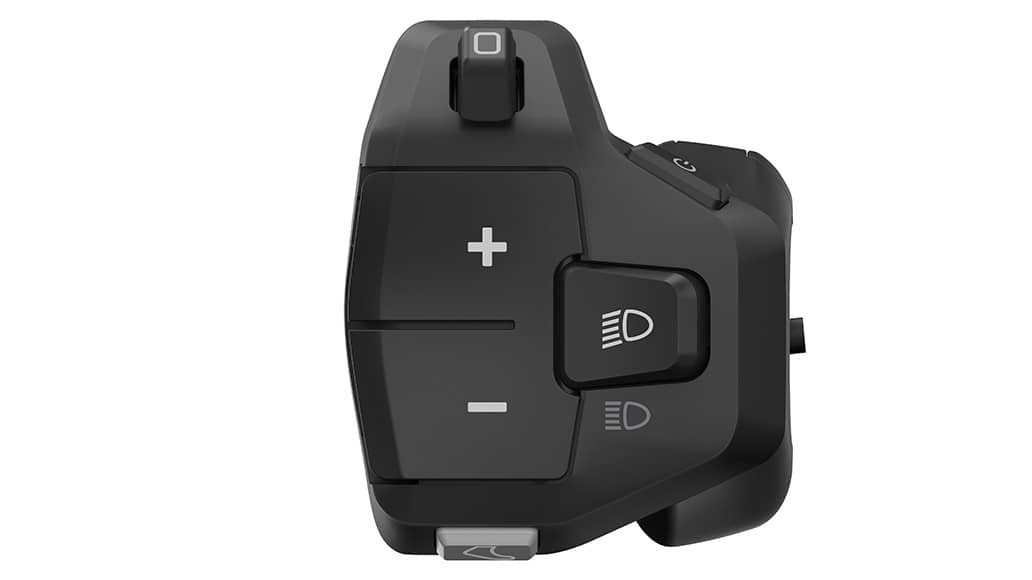 Pinion: Made in Germany
All Pinion drives are developed in Germany and assembled by experienced employees at the company headquarters near Stuttgart. After completion, each MGU undergoes a complex "end-of-line" test run.
Here the quality, functionality and resilience of the motor-gear units are ensured before delivery. The vast majority of all components belonging to the MGU, from the e-machine to the gearshift and gearing components, are produced by our qualified partners in Germany and other European countries.
The Pinion MGU project is funded by the Federal Ministry of Economics and Climate Protection based on a decision by the German Bundestag.