Muli Muskel: Cargo Bike in Review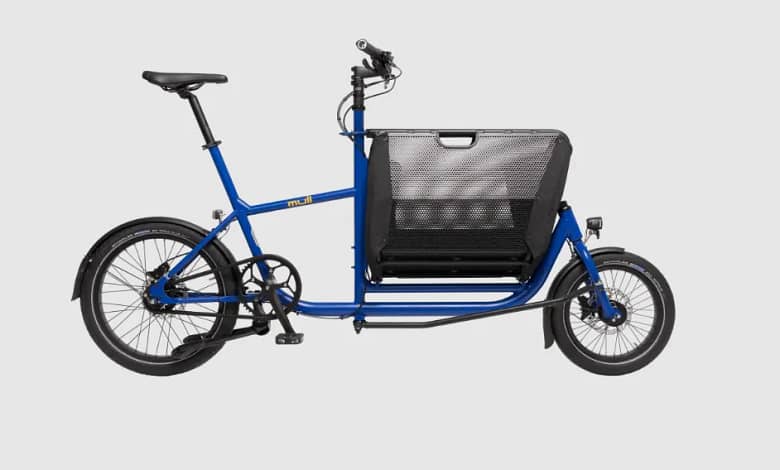 Muli Muskel Review
Muli Muskel Cargo Bike in Review – The Muli bikes emerge from a highly urban context and demand. These compact cargo bikes are crafted in Cologne under the gleaming light of their own welding robot.
The quality of the frame speaks volumes about the robot's craftsmanship. Muli aims to counter the long and rather bulky cargo bikes with a compact concept that seamlessly fits into daily life.
The Muli Muskel not only meets the standard length requirements for a bicycle but also becomes incredibly slim thanks to its unique foldable metal basket.
With the handlebars turned in, it easily fits into almost any parking space. When needed, the unfolded basket can carry not only about 100 liters or 70 kg of cargo but optionally also up to two children.
The Muskel model operates with a pure two-leg drive – its name says it all. The equipment is solid and reflects the practical and pragmatic approach.
Fully Grown and Confident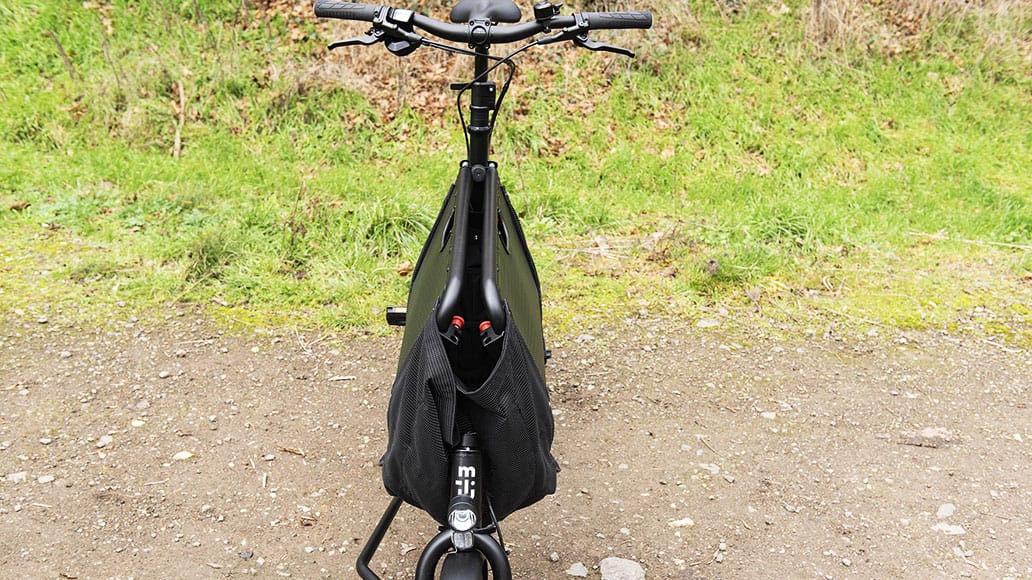 Oh, how cute… One should refrain from indulging in cuteness when looking at the small wheels of the Muli. Because the Muli appears conspicuously grown-up. While it remains noticeably agile at the front, this works to its advantage.
It enhances its overall confident urban maneuverability. Any initial nervousness stems from the rider's untrained sense of balance. Soon enough, you'll be steering the Muli smoothly and agilely through the cycling terrain, especially thanks to its low center of gravity.
Its basic size inherently limits its use on steep inclines. However, with plenty of leg power, it proves to be a capable climber. The good brakes can provide a sense of security. The spring-lock mechanism for basket attachment proves to be totally intuitive and practical.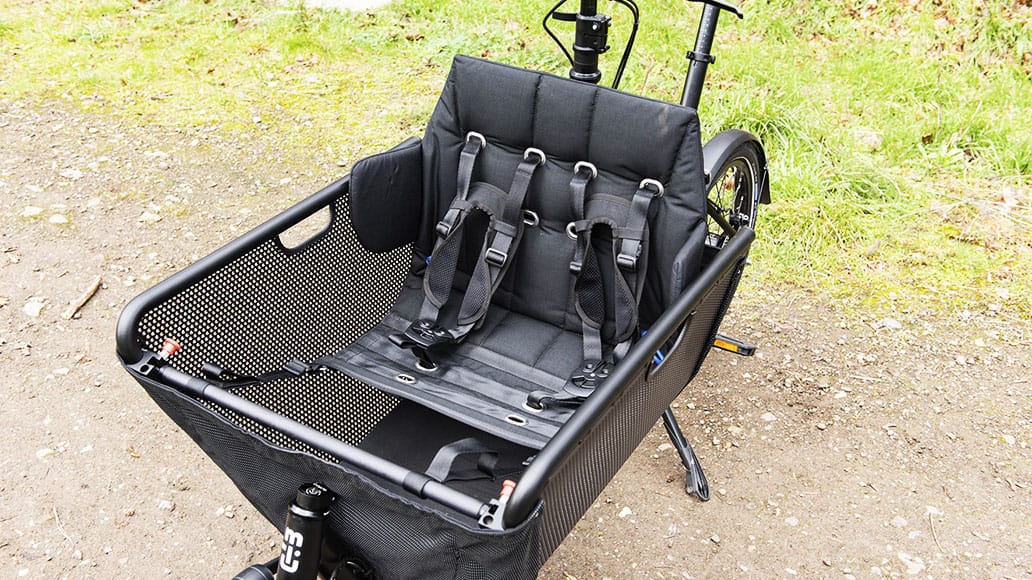 Muli Muskel: Technical Details and Information
| | |
| --- | --- |
| Price | 3300 euros |
| Weight | 29.2 kg (including child seat) |
| Payload (rider and luggage) | 167kg |
| Frame types and sizes | One size fits all; Rider height: 150 – 195 cm |
Equipment of the Muli Muskel
| | |
| --- | --- |
| Frame/Box | CrMo steel/sheet steel |
| Fork | CrMo steel |
| Gearing | Internal hub gear: Shimano Alfine 11; Shift lever: Shimano Alfine Rapid-fire, 1×11 gears |
| Gear Ratio | 2.48 – 10.1 m |
| Wheel | Hubs: Shimano 3D37/ Shimano Alfine; Rims: Aluminum double-wall, 36-hole |
| Tires | Schwalbe Big Apple/Big Apple Plus, 16″/20″, 50 mm |
| Brakes | Hydraulic disc brakes Shimano MT 402/MT 420, 160/160mm |
| Cockpit | Stem: Satori, adjustable height, swivel; Handlebar: Satori |
| Seatpost | Satori |
| Saddle | Ergon ST10 |
| Lighting | B+M IQ-XS/ B+M Toplight 2C |
| Other | Optional child seat attachment; Double-legged kickstand: Ursus; Fenders: SKS |
See more: Drössiger Gravel Pit Plus in a Long-term Test.
Muli Muskel in Review: Conclusion
In summary, the Muli Muskel stands as a testament to innovative engineering and practical design in the world of cargo bikes. Its origins in a bustling urban environment, paired with the precision of its construction in Cologne under the watchful eye of its welding robot, underscore its commitment to excellence.
What sets the Muli Muskel apart is its commitment to breaking away from the conventional mold of long and unwieldy cargo bicycles. Instead, it offers a compact, flexible solution that seamlessly integrates into the rhythms of everyday life.
The standout feature of the Muli Muskel is undoubtedly its foldable metal basket. When the handlebars are turned inward, it takes on a remarkably slim profile, fitting comfortably into even the tightest parking spaces.
When the need arises, this bike isn't just a cargo carrier; it transforms into a versatile transporter, capable of accommodating up to 100 liters of cargo or 70 kg, and even two children if you opt for the extra seating.
Functionality-wise, the Muli Muskel lives up to its name with its dual-leg drive system. Its equipment is designed with practicality and pragmatism in mind, ensuring that it delivers on its promises.
But don't be fooled by its compact appearance; the Muli Muskel possesses a remarkable sense of maturity on the road. While it maintains agility at the front, this agility only enhances its overall performance.
Any initial unease riders might experience usually stems from unaccustomed balance, which quickly gives way to confident control. Thanks to its low center of gravity, navigating urban terrain with the Muli Muskel becomes a breeze.
Though its compact size might limit its hill-climbing capabilities, it proves its mettle when put to the test. With a bit of leg power, it efficiently tackles inclines, and the dependable brakes offer a sense of security.
Additionally, the intuitive spring-lock mechanism for securing the basket proves to be both practical and user-friendly.
In conclusion, the Muli Muskel offers a clever, high-quality folding concept that makes it an ideal companion for daily life. Its exceptional riding characteristics, combined with its versatility and practicality, ensure that it seamlessly integrates into urban living.
With the added benefits of being manufactured in Germany with a lifetime frame warranty, the Muli Muskel stands as a compelling choice for those seeking a cargo bike that truly delivers.
In a market filled with options, the Muli Muskel carves out its niche by combining innovation, quality, and a deep understanding of urban mobility needs. So, whether you're a city dweller in need of a reliable cargo solution or a parent looking for a versatile family transporter, the Muli Muskel deserves your attention.
It's a testament to modern engineering, blending form and function into a sleek and capable package that's ready to tackle the challenges of city life.
The Muli presents a clever, practical folding concept that has been executed with high quality. Its riding and utility characteristics make it all-around suitable for daily life.
Positive: Clever, slim basket solution; Riding characteristics; Manufactured in Germany (Cologne); Lifetime frame warranty
Negative: Chain guard creaks
Interested in the Muli Muskel? You can find more information on the manufacturer's website.