Drössiger Gravel Pit Plus in a Long-term Test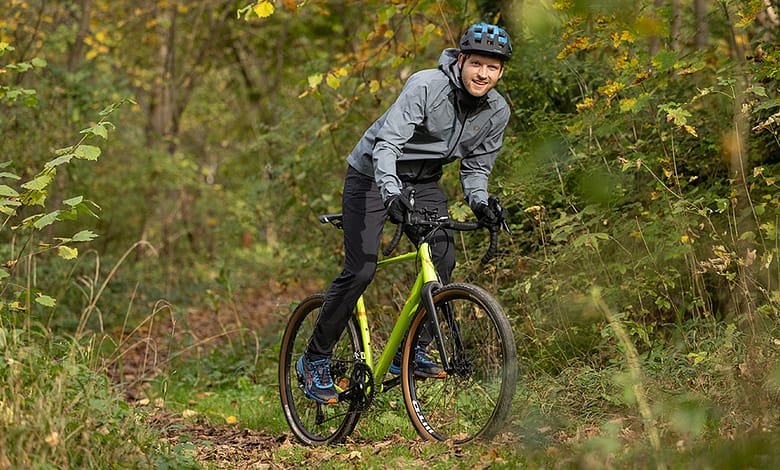 Drössiger Gravel Pit Plus
Drössiger Gravel Pit Plus in a Long-term Test – 1,850 kilometers have been traveled with the Drössiger Gravel Pit Plus. How we rate the handling, driving characteristics, and components can be found in this detailed long-term test.
For over half a year, the Drössiger Gravel Pit Plus has accompanied me on my morning commute to the editorial office. Extended by numerous day trips, the long-term test concludes after 1,850 kilometers.
It's time to look back. Remembering lots of fun rides through the fall, winter, and the first eagerly anticipated sunbeams of spring on various terrains.
Drössiger Gravel Pit Long-term Test Begins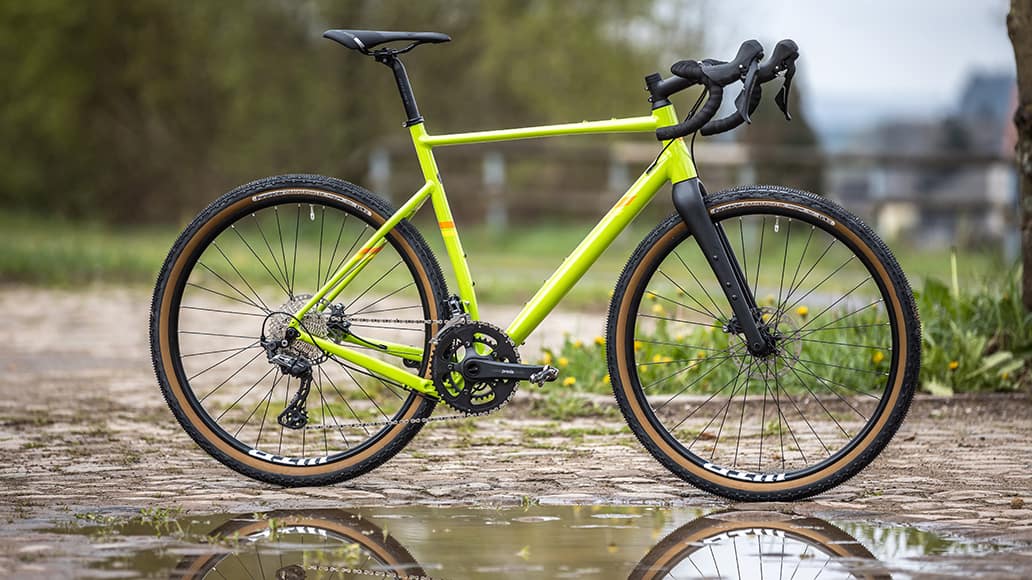 In mid-September 2022, the bike was handed over in Ismaning. Drössiger's eye-catching gravel bike, adorned with a metallic green glossy powder coating, had already passed the Radfahren Gravel test with flying colors, earning a recommendation from our editorial team.
Our test riders were particularly impressed by the tire suspension and the overall ride comfort. The intuitive handling of the Gravel Pit Plus also contributed significantly to its excellent 1.4 rating.
That's exactly what I was looking for to regularly commute through the English Garden on the Isar cycle path to the north of Munich. No cars, no traffic lights, but a wide path with moderate gravel.
Aluminum Frame with Eyelets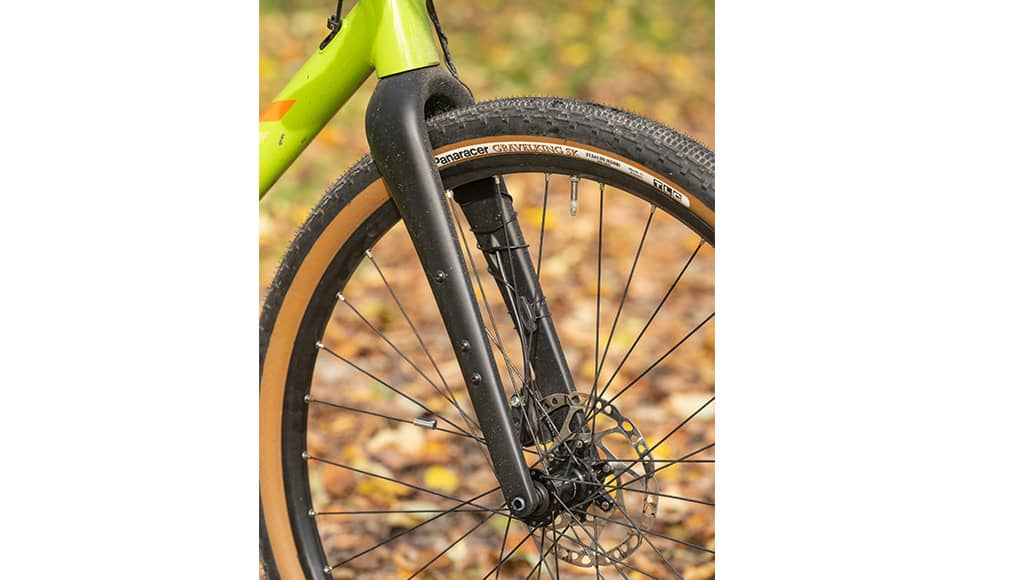 The bike brand of JBS GmbH from Eschweiler near Aachen is known for custom builds of versatile gravel bikes based on Drössiger frames. At first glance, the Gravel Pit seems to be one such model, with numerous eyelets on the aluminum frame and the carbon fork – even its sporty riding position indicates a purposeful speed approach.
Whether daily commuting on gravel roads or multi-day gravel tours in more demanding terrain, both seem possible with this gravel bike, accompanied by great comfort. It's also visually appealing to see most of the cables and lines running inside the frame.
I also appreciate the spacers positioned above the handlebars. By relocating them below the stem, the sporty seating position can become more comfortable and slightly upright. Priced at 2,099 euros, the Gravel Pit sits in an attractive segment and is eager to clock its first kilometers in this long-term test.
First Riding Impression
As implied by the "Plus" in its name, the Gravel Pit rolls on the 48 mm wide and 27.5-inch Gravelking SK tires from Panaracer, offering a relatively soft ride and quick acceleration, even on varying terrains. This is facilitated by the smaller, high-quality 27.5-inch wheels from WTB, which contribute to noticeably agile cornering.
The lowered chainstay on the drive side is a thoughtful design feature, allowing the wide tire to fit within a relatively short rear triangle, making tight cornering maneuvers a breeze. The lively nature of the bike is attributed to its very short chainstays.
After the first 20 kilometers back home, the Gravel Pit also scores points for easy carrying up to the first floor, thanks to its significantly flattened top tube. The nearly 11-kilogram weight is also easy to shoulder.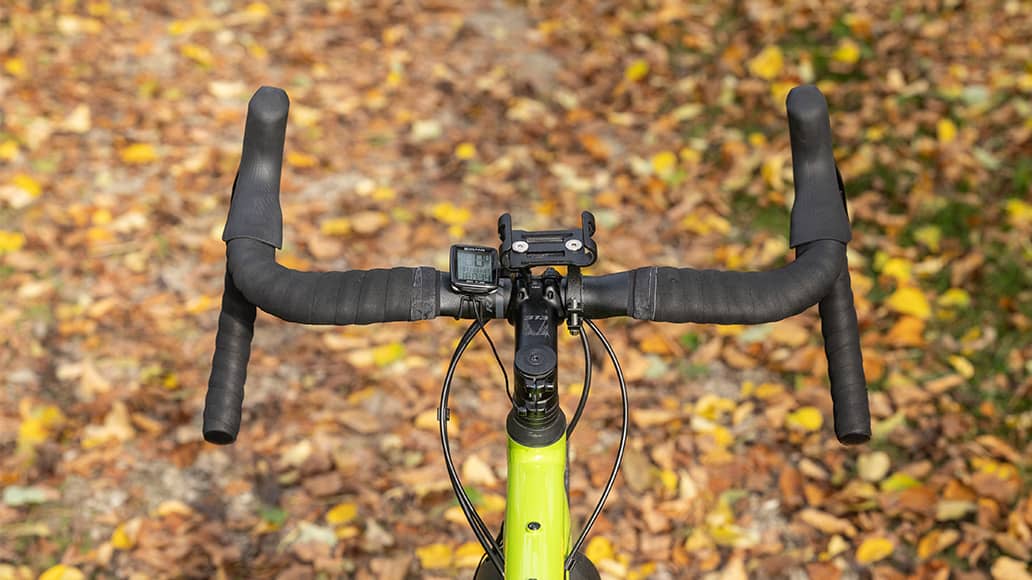 Day Tour Off-Road
Daily commutes on the gravel-covered Isar cycle path quickly sparked curiosity about how the Gravel Pit would perform on a day tour covering a three-digit kilometer range into the foothills of the Alps.
The pronounced shock-absorbing features combined with an innovative seat tube design and wide, lightly treaded tires impress on simple trail sections.
Combined with a moderate sitting position on the comfortably firm Selle Italia SL saddle, the wide and upward-curved Gravel handlebar from Ritchey Comp ErgoMax, and a maximum tire pressure of four bars, off-road sprints are executed with excellent control, albeit initially a bit sluggish.
The ergonomic Ritchey cockpit allows playful steering through tight bends, greatly supported by the steep 72-degree steering angle. The broad handlebar surface, paired with a slight rise, offers a fully convincing ergonomic package in every riding situation.
Drössiger Gravel Pit with Shimano GRX Gear Shift
Drössiger uses the Shimano GRX RX810 gear shift, a crisp and directly shifting gravel group with 22 gears. The hill-friendly gear ratio ranges from a 2.5-meter rollout in the easiest gear to 9.49 meters in the highest.
Inclines of up to 14% can be easily tackled. Climbing feels even lighter with a steeper seat angle and a seat post without offset, giving a rearward push.
On brisk downhill rides, one can pedal vigorously and utilize the impressive power transfer properties of the stiff aluminum frame to generate significant propulsion.
Even in wet and leaf-covered conditions, the tires do a good job, providing excellent grip, rolling well, and impressing with their all-around capabilities in all weather conditions.
More bicycle test: Bicycles Cadiz in Test: Well Calculated Everyday Bike.
Compelling Tire Performance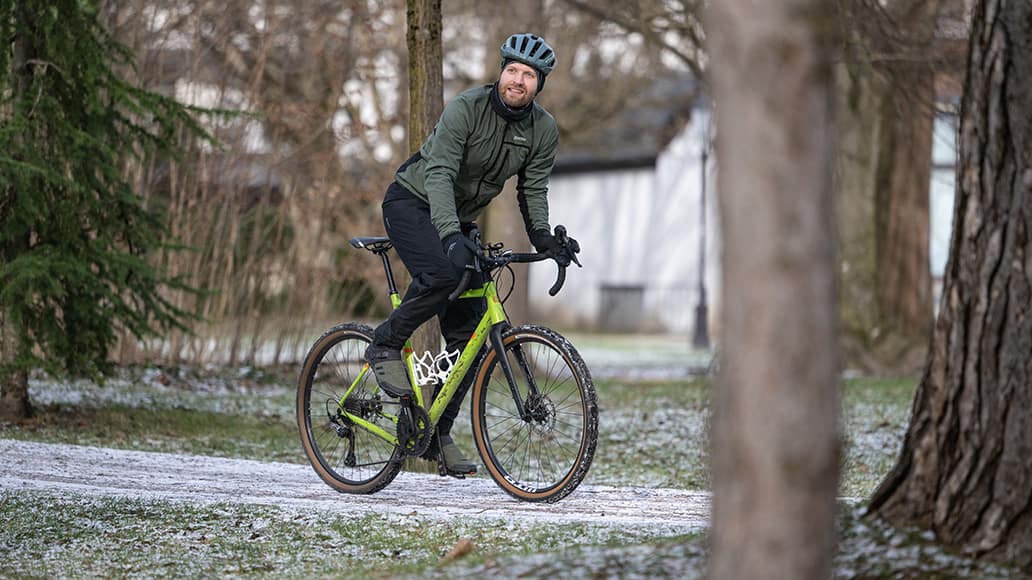 In muddy passages, the Panaracer tires, as expected due to their fine tread, quickly reach their limits and start sliding. This is where the limits of the gravel bike itself become evident.
As long as the terrain remains dry, the shoulder studs of the tires provide strong grip. Additionally, it should not go unmentioned that a simple conversion to tubeless is possible.
On level ground, the Gravel Pit Plus maintains a great pace even on a light layer of snow in winter. This is partly due to its effective tire suspension and a not overly rigid aluminum chassis, ensuring a comfortable ride.
Wheels designed for durability, with WTB's ST i23 TCS 2.0 rims, are laced with 32 spokes. Together with Shimano's RS470 hubs, they contribute to good directional stability and solid road contact. This adds a layer of safety, especially noticeable during snowfall in winter.
It is worth noting, after about 800 kilometers, that the Gravel Pit Plus, due to its wheel size, showcases a successful mix of agility and smooth running. Thanks to the stiff and straightforward aluminum frame, the smoothness is noticeably enhanced, especially in faster gravel sections, ensuring a pleasant and always safe riding experience.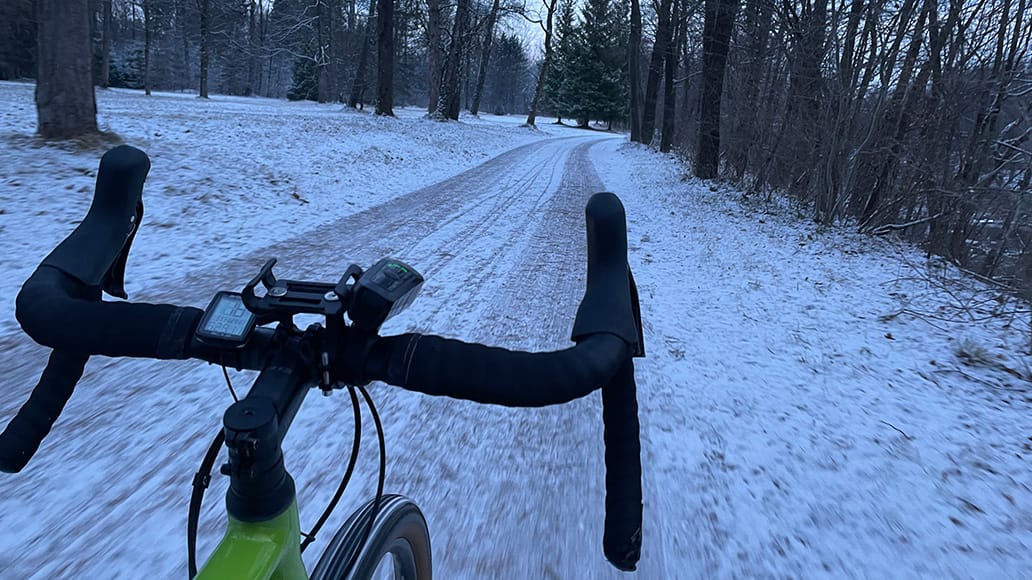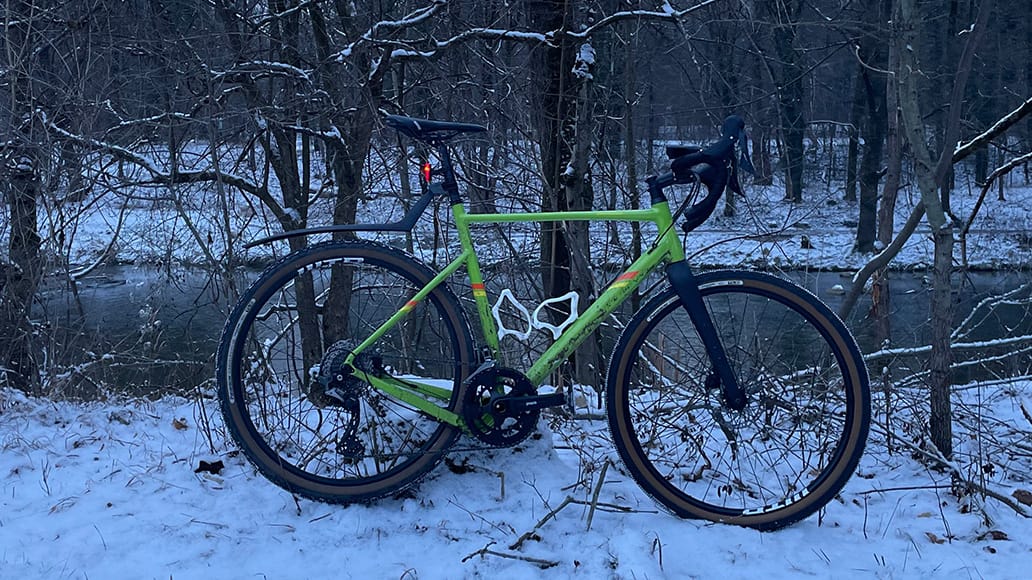 Hydraulic Disc Brakes
The hydraulic disc brakes of the GRX group did a flawless job after a short breaking-in period. Their precise deceleration was convincing, even in wet conditions or snow. The 160 millimeter disc diameter is standard in the gravel segment – and also an appropriate choice for the Gravel Pit Plus by Drössiger.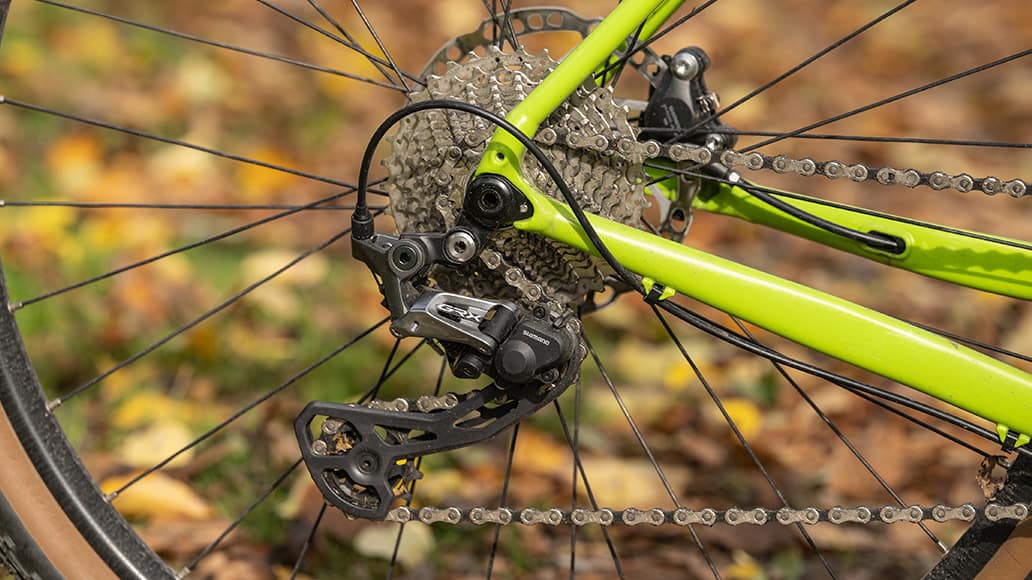 Drössiger Gravel Pit Plus: Ideal for Bikepackers
Even though I haven't embarked on a major bikepacking tour with the Gravel Pit Plus, the sheer number of mounting eyelets on the aluminum frame induces strong wanderlust. Two bottle holders in the frame triangle – on the lower and seat tube.
Another option is available below the downtube (two eyelets). Plus, a pair of eyelets for additional holders on the fork leg.
Optional fenders can be attached to separate threads. The rear also allows for this, where there are additional luggage rack eyelets. Lastly, there are two eyelets on the top tube for the attachment of additional bikepacking equipment.
Breakdowns and Incidents?
Apart from a flat rear tire, I had no incidents to report over 1,850 kilometers. Cables, spokes, brakes, all operating levers – everything always top-notch and reliable. Even during the final comprehensive check, our workshop did not note any unusual wear and tear.
Chain, cassette, or brake pads: everything was within the expected wear range.
Drössiger Gravel Pit Plus Long-Term Test: Conclusion
After 1,851 kilometers, it is really hard for me to conclude the long-term test phase with the Gravel Pit Plus. I was thoroughly convinced by Drössiger's successful comfort concept, combining damping properties equipped frame and high-volume gravel tires.
Weighing just under eleven kilograms and not primarily focused on performance, I will especially remember its benign and safe riding characteristics on more challenging terrain in all kinds of weather.
The well-thought-out and consistently high-quality equipment makes the purchase price of 2,099 euros attractive. I am already looking forward to the next gravel bike from Drössiger.
Are you interested in the Drössiger Gravel Pit Plus? More information can be found on the manufacturer's website.
Drössiger Gravel Pit Plus: Technical Details and Information
| | |
| --- | --- |
| Price | 2099 euros |
| Weight | 10.9 kg (with pedals) |
| Payload (driver and luggage) | 109.1kg |
| Frame styles and sizes | Diamond: XS, S, M, L*, XL |
*Test size
Equipment of the Drössiger Gravel Pit Plus
| | |
| --- | --- |
| Frame | Aluminum |
| Fork | Carbon |
| Circuit | Shimano GRX RX810 derailleur, lever: Shimano GRX RX400, 2×11 gears |
| Unfolding | 2.05 – 9.49 m |
| Wheel | Hubs: Shimano RS470; Rims: WTB ST i23 TCS 2.0, 32 holes |
| Tires | Panaracer Gravelking SK, 27.5″, 48 mm |
| Brakes | Hydr. Disc, Shimano GRX RX600, 160/160mm |
| Cockpit | Stem: Ritchey Comp 4-Axis; Handlebar: Ritchey Comp Ergomax Gravel Riser; Handlebar tape: VP Components |
| Seat post | Ritchey Comp |
| Saddle | Selle Italia SL |
| Lighting system | – |
| Miscellaneous | Eyelets for: mudguards, bikepacking |