Compel XRC 1000 in Review: Attractive Features & Best Value for Money
Compel XRC 1000 Review
Compel XRC 1000 in Review: Attractive Features & Best Value for Money – The Compel XRC 1000 is a solid, affordable trekking bike for everyday use and moderate tours with good equipment and ergonomic design.
Compel is the sporty trekking brand of the nationwide Bike & Outdoor Company (B.O.C.) in Germany. The Compel XRC 1000 trekking bike has for some time now marked the attractive mid-range in their lineup.
High-quality mid-range is characterized by the shifting and drive components of the Shimano Deore group. For a stable price of 999 Euros, this is an attractive offer. While the brakes are of a simpler grade, they are found even on more expensive bikes, which speaks for their quality.
The headlight is entry-level and cost-conscious. At just slightly above the required 20 lux, it still feels too weak.
However, the tail light is excellent and is clearly visible across its full width. For safety, the outstanding Schwalbe tire with its thick, reliable puncture protection layer is also worth mentioning.
Harmonious Ergonomics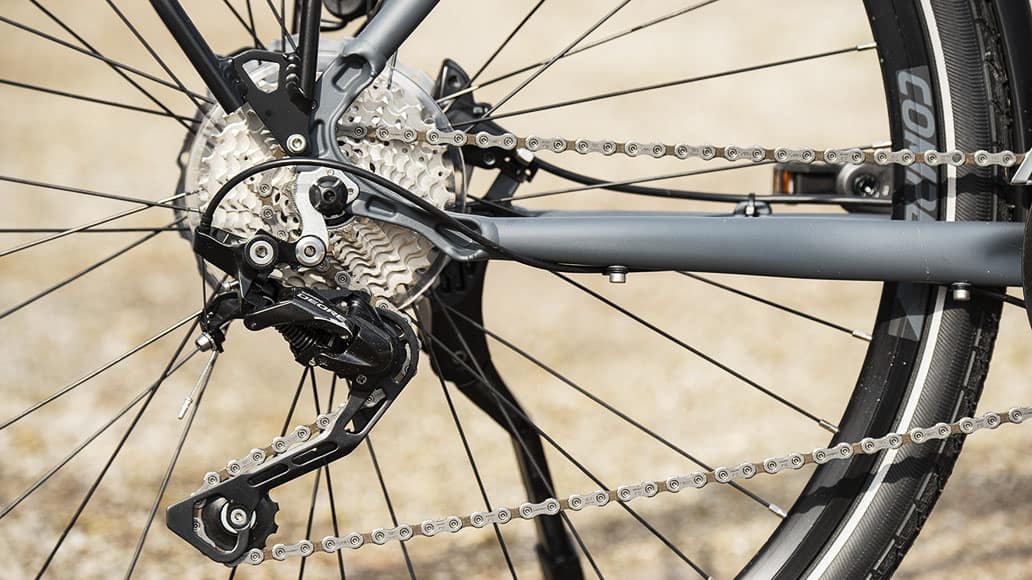 With a variable but overall moderate sitting posture, the hands find a good and secure position on the ergonomically designed handlebar with very good grips.
The bike proves to be precise and direct in handling. If not for the slightly tougher tire due to the puncture protection, the lively stiff frame could fully show its potential.
Supported by the tour-friendly gear shift, climbers and sprinters can enjoy it even with luggage. The XRC prefers long, calm bike paths. It's perfect for relaxed rides. On rough terrains, the fork works efficiently, though it occasionally struggles with harder impacts.
When the road gets bumpy, unfortunately, the cables inside the frame are audibly noticeable. And while the brakes are a safe anchor, the affordable lighting could be of higher quality.
See more: Everyday Bike 2023 in Test: Relaxed in Everyday Life.
Compel XRC 1000: Technical Details and Information
| | |
| --- | --- |
| Price | 999 Euros |
| Weight | 17.05 kg (with pedals) |
| Load Capacity (Rider and Luggage) | 102.95 kg |
| Frame Types and Sizes | Diamond: 48, 53, 58 cm; Trapezoid: 45, 50, 55 cm; Low Entry: 45, 50, 55 cm |
Compel XRC 1000 Equipment
| | |
| --- | --- |
| Frame | Aluminum |
| Fork | SR Suntour NEX HLO DS, 63 mm |
| Gear Shift | Chain drive, Shimano Deore, 3×10 gears |
| Gear Ratio | 1.80 – 9.69 m |
| Wheel | Shimano Dynamo 3D37/ Shimano Deore; Rims: HLQC-02, 36-Hole |
| Tire | Schwalbe Marathon Plus, 28″, 40 mm |
| Brakes | Hydraulic Disc, Shimano MT 200, 180/160mm |
| Cockpit | CFP Aluminum, adjustable; Handlebar: CFP Aluminum; Grips: Ergon GP10 |
| Seatpost | CFP Trekking |
| Saddle | Selle Royal Nuvola |
| Lighting System | Front: Axa Compact Line 20/ Rear: Axa Blueline LED Steady |
| Others | Luggage Rack: Tubus UMF; Mudguards: Stronglight; Stand: Ursus |
Compel XRC 1000 in Review: Detailed Conclusion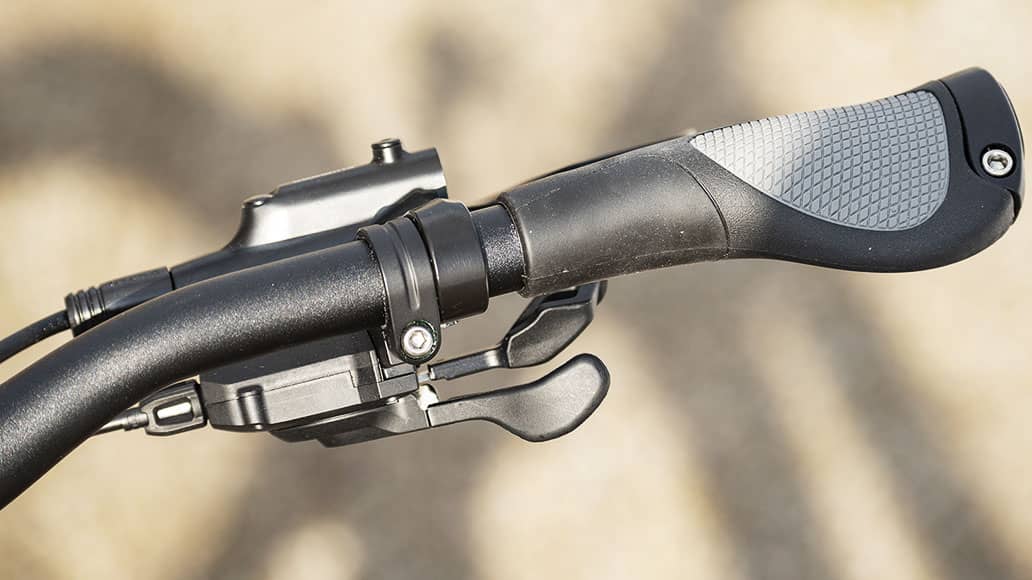 The Compel XRC 1000, priced at 999 Euros, strikes a balance between affordability and performance in the trekking bike market. Its overall design, equipment, and ergonomics have been thoughtfully considered, making it a notable choice for enthusiasts and casual riders alike.
Performance and Value:
The bike's price point positions it as a mid-range option, but the features it offers rival those of higher-end models in some aspects. With a solid foundation in the Shimano Deore group components, it promises a reliable and smooth riding experience.
The stable pricing also ensures that potential buyers get good value for their money, especially when looking at the overall package.
Ergonomics:
One of the standout features of the XRC 1000 is its ergonomic design. The handlebar and grips are tailored to ensure a comfortable grip, allowing riders to maintain a moderate sitting posture.
This design is not only comfortable for long rides but also ensures safety by providing a secure grip and control over the bike.
Minor Shortcomings:
No product is without its drawbacks. The XRC 1000's headlight strength leaves room for improvement, especially for those who frequent poorly lit areas.
The rolling resistance of the tires, likely due to the puncture protection layer, can be a bit tougher than some might prefer. Additionally, occasional noises from the fork and the rattling of cables inside the frame on bumpy terrains can be a minor distraction.
Safety and Reliability:
The brakes on the XRC 1000 serve as a dependable anchor, ensuring riders can stop safely and promptly when required. The puncture protection layer in the tires is another commendable feature, adding an extra layer of security against unforeseen obstacles.
Final Thoughts:
For those in search of a reliable, ergonomic, and reasonably priced trekking bike, the Compel XRC 1000 presents itself as a formidable contender.
While it has its minor flaws, the overall package offers a solid combination of features and performance that many riders will appreciate. It's an ideal choice for daily commutes, moderate tours, and relaxed rides.
At 999 Euros, with overall good equipment and ergonomics but minor shortcomings, the XRC 1000 offers itself as a solid, affordable touring option for daily use and moderate tours.
Pros: Deore group, handlebar, grips, good ergonomics, stable price
Cons: Weak headlight, tougher rolling, clattering fork, cables occasionally rattle, low load capacity
Interested in the Compel XRC 1000? More information is available on the manufacturer's website.