Compact Bikes Test 2023: Small e-bikes with Great Potential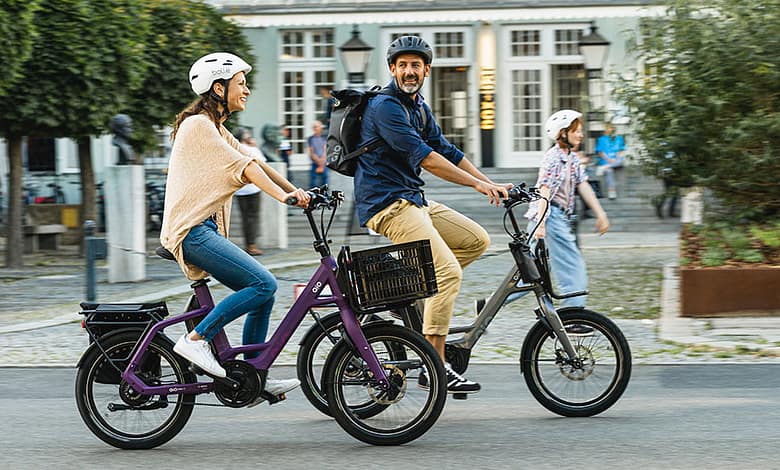 Everything smaller, everything more uncomfortable, at most for short distances: It wasn't that long ago that compact bikes were smiled at or not even taken seriously as fully-fledged e-bikes. It was almost comical when tall people rolled along on a miniature frame that seemed much too small with 20-inch tires that were more likely to be found in the children's bike segment and liked to give themselves the purist stamp in conversations, saying that it could be done in a consistently reduced form pedal with even more joy and the compact bike can really be parked anywhere. Virtually the smartest among bicycles The alternative to the pretentious and resource-wasting (E-)SUV trend, resembling a silent protest
Comfort, sophisticated ergonomics, or state-of-the-art motor technology as welcome power assistance—none of that is necessary. And above all, the market simply didn't give that up until not so long ago. Compact bikes were an absolute niche topic, and for many, due to their limited range of uses, they were not even remotely a serious alternative when making their purchase decision.
A 2023 Trend: The e-compact bike
All of that has now changed, as was impressively evident at this year's Eurobike, for example. The trend also picked up speed rapidly due to the e-bike boom during Corona.
More and more well-known manufacturers have a compact e-bike with equipment in their portfolio that is in no way inferior to its "big" siblings. It doesn't matter whether it's gears, ergonomic components, braking systems, or the electrified engine room. Which brings us to our eight test bikes, all of which were able to demonstrate that they also had remarkable riding characteristics. But first things first.
"With ever-increasing performance and range, the total weight of compact bikes is unsurprisingly increasing."
Powerful motors and large batteries
Starting with the technology, which is the heart of every e-bike, Bosch dominates the motor area. While the cultivated and rather gently pushing Active Line Plus with a maximum torque of 50 Newton meters is installed in two test bikes (Gepida and Hercules), the more powerful and mountain-friendly Performance Line dominates the wider field of participants.
With Riese & Müller, i:SY, Flyer, Bergamont, and QiO, five manufacturers equip their test bikes with the Swabian trekking unit, which has been tried and tested for years, and thus also define the intended use far beyond the city limits. With a torquey 60 or 75 Newton meters, the quintet showed considerable touring potential.
Compact bike pioneer i:SY even gave its E5 ZR Bosch's most powerful CX drive (85 Newton meters) and, unsurprisingly, delivered the best climbing values in the test, albeit unmistakably. The times are also over when compact cyclists were assumed to have a rather manageable inner-city radius of action.
All bikes in the test have batteries with a storage potential of at least 500 watt hours on board. The preferred location here is still external, behind the seat tube. The advantages: slimmer frames (all made of aluminum in the test), easy removal for charging at home, and a favorable distribution of the center of gravity directly under the driver in the center of the wheel.
Flyer, Gepida, and Bergamont fully integrate the batteries into the down tube of their Upstreet, Pugio, and Hans-E. This may seem cleaner and more contemporary to some people, but it makes the frame construction appear more massive, robust, and even beefy overall.
Small, but not so easy anymore
Unsurprisingly, the overall weight of compact bikes is increasing more and more with the increase in performance and range. The little runabouts with their 20-inch tires may look so dainty, but none of them weighed more than 24 kilograms in the test.
In terms of weight, due to optional front luggage racks or child transport options, which are only comparable to a limited extent anyway, the i:SY is our test lightweight at 24.9 kg. In 2023, this means that compact bikes can only be carried comfortably to a limited extent. Whether in the basement at home or up the stairs, with Tern, QiO, or i:SY, you can at least enjoy cross braces that make lifting easier.
Focus on low-maintenance concepts
On the other hand, what pleases us in everyday life and was consistently implemented on six test bikes is the low maintenance effort. R&M, i:SY, Flyer, Gepida, Hercules, and QiO rely on a drive unit made of carbon belts and an encapsulated hub gear. Mostly Shimano's Nexus with either five or eight gears is installed. R&M even gives its Tinker 2 the stepless Enviolo. In combination with Shimano's Inter 5E hub gear, a chain is used on Tern's Quick Haul.
Bergamont installed Shimano's Tiagra derailleur with ten gears on his Hans-E. Great praise for all bikes in terms of braking safety: whether from Tektro, TRP, Clarks, or mostly Shimano, the hydraulic systems all produced convincing values on paper.
Driving comfort: where are the limits?
There's no question: going without a suspension fork, smaller tires, and more direct steering result in a reduction in overall comfort. Nevertheless, our test showed that compact bikes are also developing noticeably here and have long been equipped with proven components from the "big ones".
With a spring support, Hercules prevents strong hits in the saddle, while QiO, Flyer, and R&M do the same convincingly with a parallelogram variant. The latter manufacturer is the only one to use a suspension fork and offers comfortable 50-millimeter travel with the Spinner Grind OS.
Tire widths of at least 55 millimeters have also resulted in surprisingly good comfort values. Whether Schwalbe's Big Ben, Big Apple, or pick-up: If the tire pressure isn't too high, this springing in the wrist is just as good-natured as the E.Contact from Continental.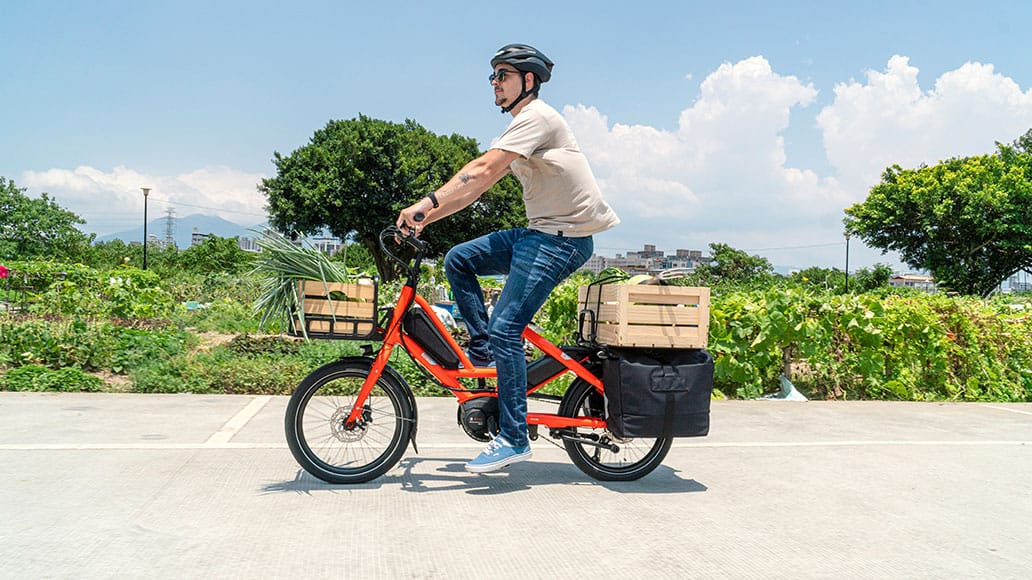 The compact bike Tern Quick Haul convinced in the test with extensive variability.
Light-footed, agile driving characteristics
The permissible total weights start at 130 kg. At the top are i:SY and Tern with 150. Our test procedure aims to bring all bikes within the range of these maximum values or to load them. This is where Tern comes off best, with its remarkable frame stiffness.
But Hercules also knows how to impress with the Futura Compact. Only Gepida's Pugio drives a bit too soft even without luggage and reveals weaknesses in agility, especially with nimble steering maneuvers.
In general, all eight compact bikes are controlled very directly. Variants with slightly inwardly cranked handlebars score plus points in terms of comfort. Since all eight wheels can be easily adjusted to the desired rider size with quick-releases or Speedlifters, and almost all of them are equipped with touring-capable, not too soft saddles, we were able to attest to surprisingly high touring potential, which is reflected in the overall marks accordingly.
High prices – high quality!
Gepida is the cheapest test bike at 3449 euros, and R&M is the most expensive at 5048 euros. No question: At first glance, it doesn't sound like a bargain. As such, even when ridiculed, manufacturers no longer want to throw their compact bikes on the market.
On the contrary, equipped with technically high-quality components, compact bikes in 2023 are clearly on their way out of their niche existence. Rightly so!
We tested these compact bikes
| | | |
| --- | --- | --- |
| brand | Model | Price |
| Gepida | Pugio Pro Belt Nexus 8 | 3449 euros |
| Hercules | Futura Compact F8 | 3599 euros |
| Tern | Quick Haul P5i | 3599 euros |
| Bergamont | Hanse | 3999 euros |
| QiO | ONE P-5 | 3999 euros |
| Flyers | Upstreet1 7.43 | 4699 euros |
| i:SY | E5 ZR F CX | 4799 euros |
| Riese & Mueller | Tinker 2 Vario | 5048 euros |
You can read the detailed test reports of the tested compact bikes in ElektroRad 5/2023.
Check out more articles on E-Bike categories.